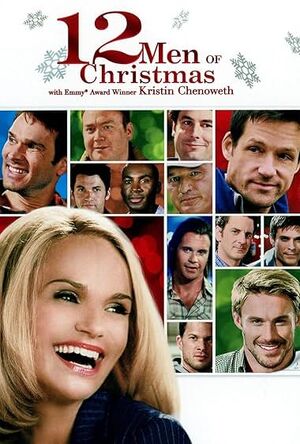 12 Men of Christmas, sometimes spelled as Twelve Men of Christmas, is a 2009 American romantic comedy television film made for the Lifetime Television network. Directed by Arlene Sanford and starring Kristin Chenoweth, the film is based on the novel Decent Exposure by Phillipa Ashley, with the teleplay adaptation written by Jon Maas. Anna Chlumsky, Aaron Abrams, Stephen Huszar, and Peter Mooney also star.
The film had its world premiere on Lifestyle on December 5, 2009. The story takes place in Kalispell, Montana, USA, but the film was shot in Calgary, Alberta, Canada. It tells the story of a New York publicist who takes a job in small town in Montana. The reference to 12 men in the title refers to members of the volunteer Kalispell Search and Rescue team who are the first point of rescue for those in danger at Glacier National Park.
Cast
External links
This page about a Christmas special or an episode from a television series with a Christmas theme is a stub. Please help the Christmas Special Wiki by expanding this article.
Ad blocker interference detected!
Wikia is a free-to-use site that makes money from advertising. We have a modified experience for viewers using ad blockers

Wikia is not accessible if you've made further modifications. Remove the custom ad blocker rule(s) and the page will load as expected.