A Boyfriend for Christmas is an American romantic Christmas film starring Patrick Muldoon and Kelli Williams, which aired November 27, 2004 on the Hallmark Channel.
Synopsis
When she was 13, Holly told a mall Santa Claus that she would like to have a boyfriend for Christmas. Twenty years later, Holly is a romantic skeptic and is more focused on her career as a social worker. On Christmas Day, she opens her door to a man carrying a Christmas tree and a bow on his chest. He hands her a note that says, "As promised, one boyfriend for Christmas," and introduces himself as Douglas Firwood. She assumes he is a gag present from her friend Diane, and invites him to her own home. Later that day she takes him with her to her parents' house for Christmas dinner. Hoping to keep her matchmaking family off her back, she tells everyone that Douglas is her long-term boyfriend, and Douglas plays along.
Availability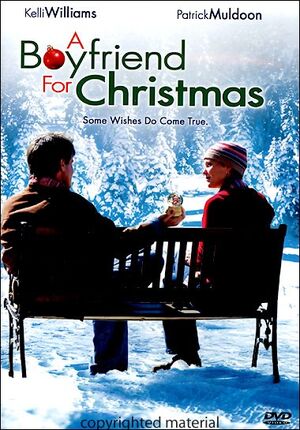 The movie was released on DVD on November 8, 2005.
Cast
| Actor | Character |
| --- | --- |
| Kelli Williams | Holly Grant |
| Patrick Muldoon | Ryan Hughes/Douglas Firwood |
| Charles Durning | Santa Claus |
| Bruce Thomas | Ted Powell |
| Shannon Wilcox | Joanna Grant |
| Martin Mull | Martin Grant |
| Bridget White | Carol Grant |
| David Starzyk | Ian |
| Jordan Orr | Noah Grant |
| Shane Baumel | Neal Grant |
| Erica Gimpel | Beth |
| Maeve Quinlan | Diane |
| John Dybdahl | Stu |
| Kenneth Danziger | Harrison Lane |
| Rodger Bumpass | Russell Parker |
External links