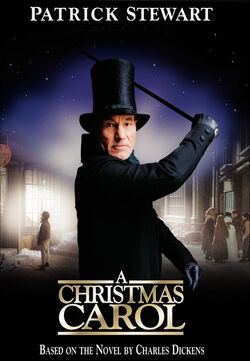 A Christmas Carol is a 1999 television movie adaptation of Charles Dickens' famous 1843 novel of the same name. It was directed by David Hugh Jones and stars Patrick Stewart as Ebenezer Scrooge and Richard E. Grant as Bob Cratchit.
Summary
In the Victorian period, Ebenezer Scrooge is a skinflint businessman who loathes the Christmas season and begrudges having to give time off to his best employee, Bob Cratchit. On Christmas Eve, Scrooge is visited by the ghost of his late friend and business partner, Jacob Marley, who in the afterlife has come to see the errors of his ways. Marley arranges for Scrooge to be visited by the Ghosts of Christmas Past, Christmas Present, and Christmas Yet to Come in hopes of teaching Scrooge of the importance of embracing the joy of the holiday season.
Trivia
Cast
External links
Ad blocker interference detected!
Wikia is a free-to-use site that makes money from advertising. We have a modified experience for viewers using ad blockers

Wikia is not accessible if you've made further modifications. Remove the custom ad blocker rule(s) and the page will load as expected.