"A Christmas Quacker" is a Christmas-themed episode of the animated series Count Duckula. Ironically, its original airdate was the day after Christmas.
Synopsis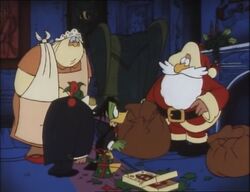 At the Castle on Christmas Day, Count Duckula reads Tremendous Terrance comic book that was given it to Nanny as a present. But then he had a bump on his head from Nanny's Christmas Pudding, he found himself in the comic with Terrance, so they went on a mission to save Santa from the Planet Bleargh. Meanwhile, Santa goes down the chimney and so does Doctor Von Goosewing, who is going to give Duckula a present, a box of exploding Christmas Crackers.
This page about a Christmas special or an episode from a television series with a Christmas theme is a stub. Please help the Christmas Special Wiki by expanding this article.
Ad blocker interference detected!
Wikia is a free-to-use site that makes money from advertising. We have a modified experience for viewers using ad blockers

Wikia is not accessible if you've made further modifications. Remove the custom ad blocker rule(s) and the page will load as expected.