"A Christmas Star" is the first Christmas episode of the PBS Kids series WordWorld, aired alongside the series' other Christmas episode, "A Christmas Present for Dog".
Synopsis
It's the night before Christmas and Frog needs a star to hang on his Christmas tree. Duck thinks this will be the perfect present for Frog, and tries to lasso one out of the sky for him. Try as he might, Duck is unable to catch a star for Frog, and cries himself to sleep. But while he sleeps, someone leaves him a wonderful present: the letters S-T-A-R.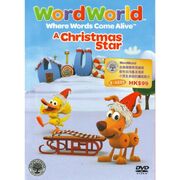 Ad blocker interference detected!
Wikia is a free-to-use site that makes money from advertising. We have a modified experience for viewers using ad blockers

Wikia is not accessible if you've made further modifications. Remove the custom ad blocker rule(s) and the page will load as expected.