Will Vinton's A Claymation Christmas Celebration is a 1987 CBS Christmas television special that features, as the title suggests, stop-motion clay animation, in this case under the Vinton trademark Claymation. It won the 1988 Primetime Emmy Award for Primetime Emmy Award for Outstanding Animated Program.
Synopsis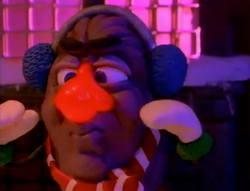 In this television special, anthropomorphic dinosaur hosts Rex and Herb introduce several segments featuring clay animation and Christmas music.
Throughout the program, Rex attempts to clarify the true pronunciation and meaning of the term "wassail," his own definition being challenged by several other characters, including Herb, his co-host. As the program progresses, Rex encounters many strange interpretations of the word; for instance, a troop of dogs is seen singing "Here We Come a Waffling," offering delicious waffles to Herb, who is enchanted on account of his gluttony.
As Herb happily accepts several distortions of the Christmas carol, Rex finds himself dismayed, thoroughly convinced that the word is "wassail." However, at the end of the program, a large group of townsfolk arrives on the scene, singing a version of the carol that agrees with Rex's theories. Rex is overjoyed; in celebration, the entire cast of the television special dances and sings to "Here We Come a Wassailing," giving the program a festive ending as it closes with "We Wish You a Merry Christmas."
Songs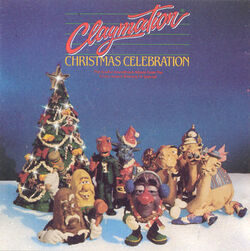 Availability
This special was released on the Henstooth Video DVD Will Vinton's Claymation Christmas Plus Halloween & Easter Celebrations in 2003.
Gallery
External links
Ad blocker interference detected!
Wikia is a free-to-use site that makes money from advertising. We have a modified experience for viewers using ad blockers

Wikia is not accessible if you've made further modifications. Remove the custom ad blocker rule(s) and the page will load as expected.