"A Holly, Johnny Christmas" is a Christmas episode of the animated television series Johnny Test, which premiered on Cartoon Network on December 5, 2011. The episode title is a reference to the Christmas song, "A Holly Jolly Christmas".
Synopsis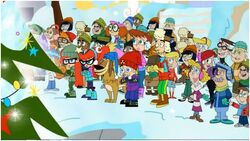 Johnny wants an extreme snowball making machine for Christmas and his parents want to get it for him, but it's sold out.
External links
This page about a Christmas special or an episode from a television series with a Christmas theme is a stub. Please help the Christmas Special Wiki by expanding this article.
Ad blocker interference detected!
Wikia is a free-to-use site that makes money from advertising. We have a modified experience for viewers using ad blockers

Wikia is not accessible if you've made further modifications. Remove the custom ad blocker rule(s) and the page will load as expected.