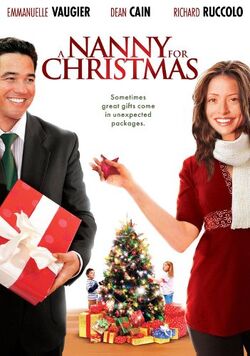 A Nanny For Christmas is a direct-to-video Christmas film, released on November 23, 2010.
Synopsis
Ally (Emmanuelle Vaugier) is a smart young career woman who needs a new job. Samantha (Cynthia Gibb) is a busy Beverly Hills advertising executive/mom whose too-well-mannered kids need some fun in their lives. And Danny Donner (Dean Cain) is the tough-guy owner of a chocolate company who wants a major ad campaign immediately. Could it all somehow lead to the Christmas that changes everyone's lives forever?
External links
Ad blocker interference detected!
Wikia is a free-to-use site that makes money from advertising. We have a modified experience for viewers using ad blockers

Wikia is not accessible if you've made further modifications. Remove the custom ad blocker rule(s) and the page will load as expected.