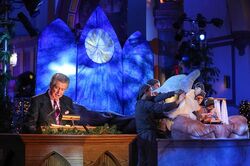 A New York Christmas to Remember is a CBS Christmas special featuring the puppetry of the late Jane Henson, which aired on December 24, 2013.
Synopsis
The one-hour special features a performance of "The Nativity Story" a production created by Jane (and produced by Heather and Cheryl Henson). The Nativity puppets were featured alongside narration of Bible passages read by Regis Philbin. The service was pre-recorded on December 5, 2013 at the Church of St. Paul the Apostle in New York City.[1]
The special was dedicated to Jane's memory and featured a segment profiling her artistic achievements and involvement with the production.
Credits
"The Nativity" segment created by Jane Henson
Puppet Director: Amanda Maddock
Nativity Puppets Built by The Jim Henson Creature Shop
Creative Supervisor: Jason Weber
Production Manager: Melissa Creighton
Puppet Builders: Anney Ozar, Tim Lagasse, Amanda Maddock, Connie Peterson, Jason Weber, Ulysses Jones, Mari Tobita, Andrea Detwiler, Camille Labarre
Photographer: Richard Termine
"The Nativity Story" funded by the Jane Henson Foundation, IBEX Puppetry, Cheryl Henson, Heather Henson, the Henson Family, and the Jim Henson Foundation
Sources
External links
Ad blocker interference detected!
Wikia is a free-to-use site that makes money from advertising. We have a modified experience for viewers using ad blockers

Wikia is not accessible if you've made further modifications. Remove the custom ad blocker rule(s) and the page will load as expected.