A Star for Christmas is a made-for-TV Christmas movie that premiered on Ion Television on December 2, 2012.
Synopsis
This page about a Christmas special or an episode from a television series with a Christmas theme is in need of a longer synopsis. You can help the Christmas Special Wiki by expanding this synopsis.
After Cassie's recent break-up with her boyfriend, her personal life gets put on hold when a big-time Hollywood movie starts shooting in her sleepy small town. Jammed with cupcake orders, the last person Cassie expects to meet is a man who sweeps her off her feet, Alex. But Cassie is taken aback when she discovers Alex's true identity… he's the star of the Hollywood movie! Now, Alex's beautiful celebrity ex rolls into town. Can Cassie survive the Christmas season and sort out her feelings before the movie wraps and Alex is gone forever?
Casr
Briana Evigan as Cassie Drake
Corey Sevier as Alex
Karissa Vacker as Tricia
Jeremy Howard as Zack
Travis Van Winkle as Jared
Brooke Burns as Skylar
Sean Stone as Nolan Denver
Shelby Janes as Ms. Dailey
External links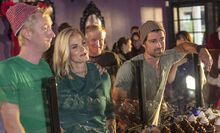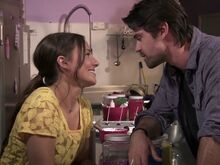 This page about a Christmas movie is a stub. Please help The Christmas Special Wiki by expanding this article.