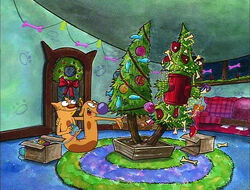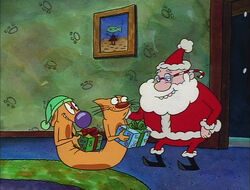 "A Very CatDog Christmas" (incorrectly referred to as "A Very Merry CatDog Christmas" on iTunes and Amazon Instant Video) is a special half-hour Christmas episode of the Nickelodeon animated series CatDog, produced in the show's second season.
Synopsis
Cat does the unthinkable in attempts to have access to more stuff on Christmas: selling Dog and himself to Rancid for his niece Rancine who has everything except a CatDog. Santa Claus is very angry by this and cancels Christmas entirely. All of Nearburg is outraged when they find out it's Cat and Dog's fault and picket through the town searching for them.
Cat and Dog, stuffed in a box, wait to be opened by Rancine. They are her only Christmas gift this year. When they pretty much become Rancine's prisoner, Cat realizes he was wrong, and they attempt to escape. However, going home isn't the best idea because Winslow, Eddie and the Greasers are still looking for them, planning to confront them about canceling Christmas. CatDog is totally oblivious to the fact that Christmas was cancelled.
Availability
The episode made its home video debut on the CatDog: Season 2, Volume 2 manufacture-on-demand DVD set, sold exclusively on Amazon.com in late 2010. It was later included on the retail release, CatDog: Season 2, Part 2, distributed by Shout! Factory on September 25, 2012. Its most recent release was on the Out of the Vault Christmas DVD, originally released as a Walmart exclusive on October 6, 2015.
Songs
Cast
External links
Ad blocker interference detected!
Wikia is a free-to-use site that makes money from advertising. We have a modified experience for viewers using ad blockers

Wikia is not accessible if you've made further modifications. Remove the custom ad blocker rule(s) and the page will load as expected.