A Very CatDog Christmas
Talk

0
2,283pages on
this wiki
Directed by:
Marlene May
Written by:
Andrew Gottlieb
Release date:
November 30, 1999
Running time:
24 minutes
Rating:
TV-Y
Available on:
iTunes
DVD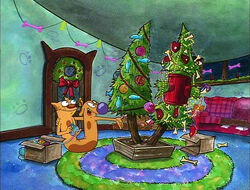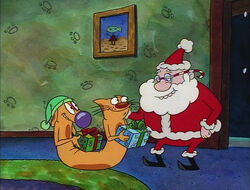 "A Very CatDog Christmas" (incorrectly titled "A Very Merry CatDog Christmas" on iTunes) is a special half-hour Christmas episode of the Nickelodeon animated series CatDog, produced in the show's second season.
Synopsis
Edit
Cat does the unthinkable in attempts to have access to more stuff on Christmas: selling Dog and himself to Rancid for his niece Rancine who has everything BUT a CatDog. Santa Claus is very angry by this and cancels Christmas entirely. Nearburg is outraged when they find out it's Cat and Dog's fault and picket through the town searching for them.
Cat and Dog, stuffed in a box, waits to be opened by Rancine. They are her only Christmas gift this year. When they pretty much become Rancine's prisoner, Cat realizes he was wrong, and they attempt to escape. However, going home isn't the best idea because Winslow, Eddie and the Greasers are waiting for them to arrive to confront them about canceling Christmas. CatDog is totally oblivious to the fact that Christmas was canceled...
Availability
Edit
The episode made its home video debut on the CatDog: Season 2, Volume 2 manufacture-on-demand DVD set, sold exclusively on Amazon.com in late 2010. It was later included on the retail release, CatDog: Season 2, Part 2, distributed by Shout! Factory on September 25, 2012.
Nickelodeon

Nicktoons
"The Santa Experience" • "Son of Stimpy" • "Doug's Christmas Story" • Rocko's Modern Christmas! • "A Scooter For Yaksmas" • "Arnold's Christmas" • "Gift Hoarse" • "A Very CatDog Christmas" • "Have Yourself a Thornberry Little Christmas" • "Christmas Who?" • "Christmas Every Day!" • "An 'Even Steven' Holiday Special" • "Babies In Toyland" • Merry Nickmas shorts • "The Most Horrible X-Mas Ever" • "A Rocket X-Mas" • "Holly Jolly Jimmy" • "The Finster Who Stole Christmas" • "A Robot for All Seasons" • "When Santas Collide" • "The Fright Before Christmas!" • "A Christmas Mikey" • "Merry Wishmas" • "Night Morning" • "It's an Udderful Life" • "The All Nighter Before Christmas" • "A Doomed Christmas" • "A Very Brrr-y Icemas" • It's a SpongeBob Christmas! • A Fairly Odd Christmas
SNICK, TeenNick, Nick at Nite, and other live-action shows
"Ride, She Said" • "Happy Holidays" • All That Episode 225 • "The Gift" • "O' Christmas Pete" • "Merry Christmas, Kenan" • "Starwalk" • "A Very Canine Christmas" • "A Little So'em So'em for Christmas" • Merry Christmas, Drake & Josh • "iChristmas" • "The Naked Brothers Band Christmas Special" • "Telling Amanda" • "The Good, The Bad and the Ickie Doll" • "Big Time Christmas" • "A Christmas Tori" • "Christmas Together, Friends Forever" • "Epic Christmas" • "How to Rock Christmas" • "Stuck On Christmas" • "See Dad Run Christmas Into the Ground"
Nick Jr./Nick Play Date
Christmas at Eureeka's Castle • "Mr. Cook's Christmas" • "A Gullah Gullah Christmas" • "Blue's Big Holiday" • "Merry Christmas, Little Bill" • "A Present for Santa" • "Blue's First Holiday" • "Blue's Holiday Wishes" • "Diego Saves Christmas!" • "Christmas" • "Save the Reindeer!" • "O' Figgity Fig Tree" • Dora's Christmas Carol Adventure • "Great and Grumpy Holiday" • "The Super-Special Gift" • "Olivia Claus" • "The Action Elves Save Christmas Eve" • "Olivia's Christmas Surprise" • "Santa's Little Fixers" • "Happy Holidays, Mr. Grumpfish!" • "A Very Awesome Christmas" • Peter Rabbit's Christmas Tale
Albums
Ren & Stimpy's Crock O' Christmas • Rugrats: Holiday Classics • Nick Holiday • Nick Jr. Winter Wonderland • Dora's Christmas • Merry Nickmas