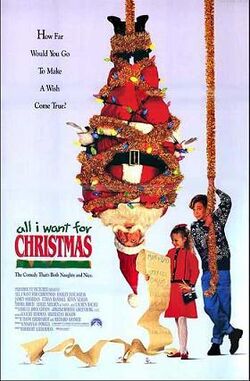 All I Want for Christmas is a 1991 American comedy movie starring Lauren Bacall, Thora Birch, and Ethan Randall. It was directed by Robert Lieberman and is rated G in the USA.
Synopsis
Two New York children know what they want for Christmas and come up with a scheme to make sure they get it. Ethan and his younger sister Hallie plan to get their divorced parents back together for the holidays. First, they need to rid themselves of pesky Tony, a businessman who has taken an interest with their mother. With the help of mice, an ice-cream truck, a few telephone calls, and the magic of Santa, their plan might just work.
Cast
| Actor | Character |
| --- | --- |
| Harley Jane Kozak | Catherine O'Fallon |
| Jamey Sheridan | Michael O'Fallon |
| Ethan Randall | Ethan O'Fallon |
| Thora Birch | Hallie O'Fallon |
| Kevin Nealon | Tony Boer |
| Leslie Nielsen | Santa Claus |
| Andrea Martin | Olivia |
| Lauren Bacall | Lillian Brooks |
| Amy Oberer | Stephanie |
| Renée Taylor | Sylvia |
| Felicity LaFortune | Susan |
| Camille Saviola | Sonya |
| Michael Alaimo | Frankie |
External links
This page about a Christmas movie is a stub. Please help The Christmas Special Wiki by expanding this article.
Ad blocker interference detected!
Wikia is a free-to-use site that makes money from advertising. We have a modified experience for viewers using ad blockers

Wikia is not accessible if you've made further modifications. Remove the custom ad blocker rule(s) and the page will load as expected.