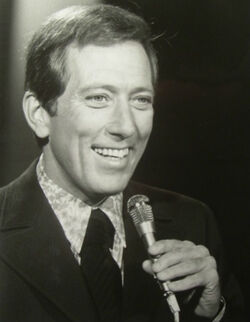 Andy Williams (December 3, 1927 - September 25, 2012) was an American pop singer who recorded 44 albums and was also the host of his own television variety show from 1962 to 1971.
Williams appeared as himself in the following Christmas specials:
In addition, his performance of the song "It's the Most Wonderful Time of the Year" appears in the movies Surviving Christmas, The Santa Clause 3: The Escape Clause (which also includes his performance of "White Christmas"), The Most Wonderful Time of the Year, and the It's Always Sunny in Philadelphia episode "A Very Sunny Christmas".
External links
Ad blocker interference detected!
Wikia is a free-to-use site that makes money from advertising. We have a modified experience for viewers using ad blockers

Wikia is not accessible if you've made further modifications. Remove the custom ad blocker rule(s) and the page will load as expected.