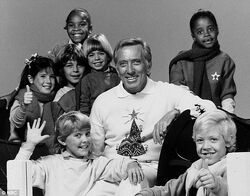 Andy Williams and the NBC Kids Search for Santa is a Christmas special that originally aired on NBC on December 20, 1985.
Synopsis
Andy Williams and kids from several NBC series go to Finland in search of Santa Claus.
Songs
Search for Santa Claus
Love's What You're Getting for Christmas
Finally Going to Meet the Man
The Plea To Santa Claus
External links
This page about a Christmas special or an episode from a television series with a Christmas theme is a stub. Please help the Christmas Special Wiki by expanding this article.
Ad blocker interference detected!
Wikia is a free-to-use site that makes money from advertising. We have a modified experience for viewers using ad blockers

Wikia is not accessible if you've made further modifications. Remove the custom ad blocker rule(s) and the page will load as expected.