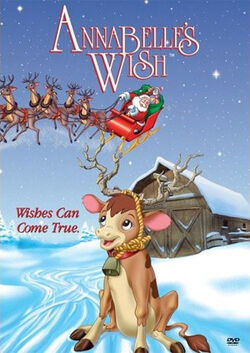 Annabelle's Wish is a 1997 animated Christmas film that revolves around a young calf who aspires to learn to fly and become one of Santa's reindeer. It is narrated by Randy Travis and stars veteran voice actress Kath Soucie. This special was made for the Make A Wish Foundation. Proceeds from the video sales went to the charity. It aired on FOX shortly after its release on video. It also aired on ABC Family's 25 Days of Christmas in 2005.
Synopsis
The story is based on an old legend that Santa gives animals the ability to speak on Christmas. Annabelle is a calf born on Christmas Eve, who sees Santa's sleigh and dreams of becoming a reindeer and flying. It also follows the sacrifices she makes to help Billy, a mute boy who also lives on the farm.
Cast
Voice actor
Character
Randy Travis
Narrator
Kath Soucie
Annabelle
Hari Oziol
Billy
Jerry Van Dyke
Grandpa Baker
Cloris Leachman
Aunt Agnes
Jennifer Darling
Star (Annabelle's mother)
Jim Varney
Gus Holder
Aria Curzon
Young Emily
Beth Nielsen Chapman
Adult Emily
Clancy Brown
Sheriff
Rue McClanahan
Scarlett
Jerry Houser
Slim
Steve Mackall
Owliver
Mary Kay Bergman
Tress MacNeille
Hens
Brian Cummings
Brewster
Jay Johnson
Ears
Tress MacNeille
Alison Krauss
Frank Welker
Additional Voices
External links
Ad blocker interference detected!
Wikia is a free-to-use site that makes money from advertising. We have a modified experience for viewers using ad blockers

Wikia is not accessible if you've made further modifications. Remove the custom ad blocker rule(s) and the page will load as expected.