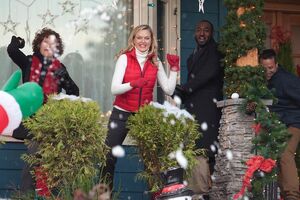 A Hobo's Christmas is a 2012 made-for-TV Christmas film directed by Allan Harmon and writen by Peter Woodward.
Synopsis
John loves Grace and her 10-year-old son, Zachary. Although he wants to propose to her at Christmas, it's the one holiday John runs from. In this romantic comedy, chaos with exes, misunderstandings, parents and in-laws all imperil John and Grace's relationship. But can they get it sorted out in time for the holidays?
Cast
| Actor | Character |
| --- | --- |
| Elaine Hendrix | Grace |
| Sergio Di Zio | John |
| Sean Michael Kyer | Zach |
| Christopher Lloyd | Harry |
| Gabrielle Rose | Agnes |
| Jessica Harmon | Faith |
External links
This page about a Christmas special or an episode from a television series with a Christmas theme is a stub. Please help the Christmas Special Wiki by expanding this article.
Ad blocker interference detected!
Wikia is a free-to-use site that makes money from advertising. We have a modified experience for viewers using ad blockers

Wikia is not accessible if you've made further modifications. Remove the custom ad blocker rule(s) and the page will load as expected.