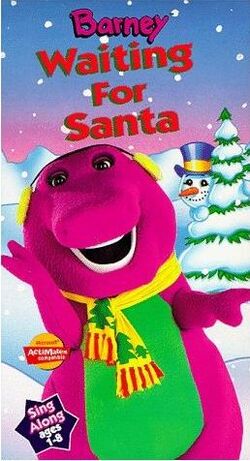 Synopsis
Everyone's asleep at Michael's house on Christmas Eve. Well, except for him and his sister, Amy. They try to stay up to wait for Santa. They fall asleep, but are soon awakened because Barney has gotten stuck trying to go down the chimney. After he is released, he magically brings the other kids there and then explains that Derek, a new boy in the neighborhood, is worried that Santa won't be able to see him. In addition, it's stated that he really wishes for some new friends more that anything else. Barney takes the gang to his house to get him and then they go on a magical sleigh ride to the North Pole to prove that Santa knows his new address. At the North Pole, they meet a snowman as well as go ice skating on a frozen pond. Afterwards, they meet Mrs. Claus and she proves to Derek that his new address is in Santa's computer and therefore he'll be able to visit him. After some fun in Santa's workshop, they return home and Barney reads "Twas The Night Before Christmas" to Michael and Amy. Little do they know that Santa is visiting while Barney is reading and soon they fall asleep. At the very end, a silhouette of Santa flies over the moon.
Songs
Barney Theme
When Santa Comes To Our House
Waiting for Santa
I Love You
S-A-N-T-A
Star Light, Star Bright
Winter's Wonderful
Skating, Skating
The Elves Rap
Let's Do a Little Tapping
Ad blocker interference detected!
Wikia is a free-to-use site that makes money from advertising. We have a modified experience for viewers using ad blockers

Wikia is not accessible if you've made further modifications. Remove the custom ad blocker rule(s) and the page will load as expected.