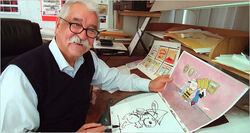 José Cuauhtémoc "Bill" Meléndez (November 15, 1916 – September 2, 2008) was a Mexican American character animator, film director, voice artist and producer, known for his cartoons for Walt Disney Productions (working on the four Disney films Pinocchio, Fantasia, Dumbo and Bambi), Warner Bros. Cartoons, UPA, and most notably the Peanuts series, in which he also provided the voices of Snoopy and Woodstock.
Christmas specials credits
Acting credits
External links
Ad blocker interference detected!
Wikia is a free-to-use site that makes money from advertising. We have a modified experience for viewers using ad blockers

Wikia is not accessible if you've made further modifications. Remove the custom ad blocker rule(s) and the page will load as expected.