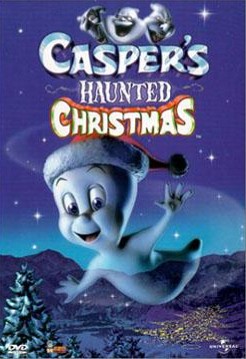 Casper's Haunted Christmas is a 2000 computer-animated special featuring Casper the Friendly Ghost. The special was originally released direct-to-video by Universal Studios and also aired on Cartoon Network until 2009. As of July 2012, the rights to the special, along with the Casper characters, is owned by DreamWorks SKG through their purchase of Classic Media.
Synopsis
Kibosh, the supreme ruler of the ghosts, gives Casper an order: Scare at least one person by Christmas Day. Casper's mission takes him to Kriss, Massachusetts, where he meets his intended victims, the Jollimore family. Casper has a hard time giving the Jollimores a real scare -- so his wicked uncles, the Ghostly Trio, recruit Casper's cousin Spooky to fulfill the mission.
Cast
See also
External links
Ad blocker interference detected!
Wikia is a free-to-use site that makes money from advertising. We have a modified experience for viewers using ad blockers

Wikia is not accessible if you've made further modifications. Remove the custom ad blocker rule(s) and the page will load as expected.