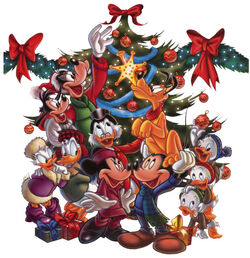 The Walt Disney Company is the largest media and entertainment conglomerate in the world, known mainly for its family-friendly products. Founded in 1923 by brothers Walt Disney (1901-1966) and Roy O. Disney (1893-1971) as an animation studio, it has become one of the biggest Hollywood studios, and owner and licensor of twelve theme parks and several television networks, including ABC and ESPN. Mickey Mouse serves as the official mascot of the Walt Disney Company.
Categorized here are all the Christmas specials, episodes, shorts, and movies produced by Walt Disney Pictures and/or Walt Disney Television. This includes Christmas productions released under the Touchstone Pictures label. Christmas albums published by Walt Disney Records are also categorized here.

Ad blocker interference detected!
Wikia is a free-to-use site that makes money from advertising. We have a modified experience for viewers using ad blockers

Wikia is not accessible if you've made further modifications. Remove the custom ad blocker rule(s) and the page will load as expected.