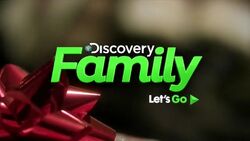 Discovery Family (formerly Discovery Kids from October 7, 1996 to October 9, 2010, and the Hub Network from October 10, 2010 to October 14, 2014) is an American digital cable and satellite television channel owned by Discovery Communications, marketed as a family-friendly network with a mix of original and acquired children's programs, such as Hasbro's My Little Pony: Friendship is Magic, Littlest Pet Shop and Transformers themed shows, along with family-oriented science and nature-themed programs.
Categorized here are Christmas specials and episodes originally broadcast on Discovery Family and its predecessors.
Pages in category "Originally aired on Discovery Family"
Ad blocker interference detected!
Wikia is a free-to-use site that makes money from advertising. We have a modified experience for viewers using ad blockers

Wikia is not accessible if you've made further modifications. Remove the custom ad blocker rule(s) and the page will load as expected.