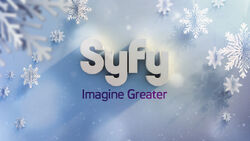 Syfy (formerly Sci-Fi Channel) is an American basic cable and satellite television channel that is owned by the NBCUniversal Cable division of NBCUniversal, a subsidiary of Comcast. The channel features science fiction, drama, supernatural, fantasy, reality, paranormal, wrestling, and horror programming.
Categorized here are Christmas specials and episodes originally broadcast on Syfy.
See also Category:Originally aired on NBC or USA for specials that premiered on other networks owned by NBCUniversal.
Pages in category "Originally aired on Syfy"
Ad blocker interference detected!
Wikia is a free-to-use site that makes money from advertising. We have a modified experience for viewers using ad blockers

Wikia is not accessible if you've made further modifications. Remove the custom ad blocker rule(s) and the page will load as expected.