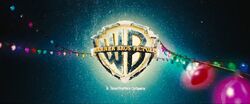 Warner Bros. Entertainment, Inc., also known as Warner Bros. Pictures or simply Warner Bros., is a major motion picture studio founded in 1918 by brothers Harry, Albert, Sam, and Jack Warner. Now owned by AT&T through their 2018 acquisition of its parent company WarnerMedia, the studio is perhaps most famous for being the company that owns the Looney Tunes cartoons.
Categorized here are Christmas specials, shorts, episodes, and movies produced by Warner Bros., as well as Christmas albums spun off from Warner Bros. productions. This also includes Christmas movies produced by Warner Bros. subsidiary New Line Cinema.
See also:
Subcategories
This category has the following 2 subcategories, out of 2 total.
Pages in category "Warner Bros."
The following 194 pages are in this category, out of 194 total.
A

B

C

D

E

F

G

G cont.

H

I

J

K

L

M

N

N cont.

O

P

R

S

T

U

V

W

Y