Home
Talk

25
2,981pages on
this wiki
The Christmas Specials Wiki is a website that anyone can edit about our favorite Christmas Specials, movies, TV episodes, characters from within these media and music from them. The wiki format allows anyone to create or edit any article, so we can all work together -- and isn't that the true Christmas spirit? Check out the Help pages to get started! Have any questions? Then just leave a message on JeremyCreek's, Mouseinphilly's, or Jack5555's talk pages.
For information on other holiday specials and movies, visit our sister wiki, the Other Holiday Specials Wiki.
Christmas Day!
Featured Article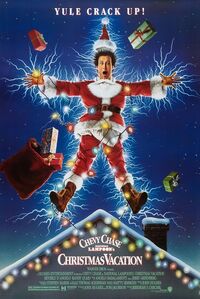 National Lampoon's Christmas Vacation (titled National Lampoon's Winter Holiday in the United Kingdom) is a 1989 Christmas comedy film directed by Jeremiah S. Chechik. It is the third installment in the National Lampoon's Vacation film series, and was written by John Hughes, based on his short story in National Lampoon Magazine, Christmas '59. The movie debuted at #2 at the box-office while grossing $11,750,203 during the opening weekend, behind Back to the Future Part II. The movie eventually topped the box-office charts in its third week of release and remained #1 the following weekend. It went on to gross a total of $71,319,546 in the United States while showing in movie theaters. Considered the most popular movie in the National Lampoon's Vacation series, it was also the last movie in the series until Vegas Vacation came out in 1997. The movie begins with Clark Griswold taking his family on the search for a perfect Christmas tree. After aggravating nearby motorists, getting stuck under a big rig, and walking in the woods for a long time, he finally finds the said tree. (He digs it out himself because he forgot the saw.) He breaks several windows and gets covered in tree sap setting it up, as it barely fits in the yard, let alone the living room. (more)
---
Vote
HERE
for the next Featured Article.
News
The United States Postal Service is celebrating Rudolph the Red-Nosed Reindeer's 50th anniversary with special postmarks and stamps featuring Rudolph, Santa, Hermey and Bumble.
Select Movie Tavern theaters are celebrating the holiday season by screening classic Christmas movies every Tuesday and Wednesday in November and December. Click here to see what's on the line-up and if a Movie Tavern theater near you is playing these movies.
ABC Family has announced their 2014 25 Days of Christmas schedule on their Facebook page. Highlights include the network television premiere of Arthur Christmas and new holiday episodes of The Fosters, Switched at Birth, Pretty Little Liars, Chasing Life, Melissa & Joey, and Baby Daddy. Ironically, they do not seem to be premiering any new Christmas-themed Original Movies this year.
A television special based on Diary of a Wimpy Kid: Cabin Fever is planned to premiere on FOX in the future. In the meantime, FOX aired a new Simpsons Christmas episode, titled "I Won't Be Home for Christmas", on December 7th.
ABC has renewed The Great Christmas Light Fight for a second season, and also premiered Toy Story That Time Forgot, a half-hour Christmas special spun off from the Toy Story movie trilogy, on December 2nd.
NBC produced an animated Christmas special for this year titled How Murray Saved Christmas, based on the best-selling children's book of the same name by Mike Reiss. They are also premiering Elf: Buddy's Musical Christmas, a one-hour animated adaptation of the movie Elf.
The Disney Channel premiered Jessie's Aloha Holidays with Parker & Joey, a special one-hour Christmas crossover between Jessie and Liv and Maddie, on November 28th. Additionally, new Christmas-themed episodes of Girl Meets World, Dog with a Blog, and I Didn't Do It premiered.
Nickelodeon premiered Santa Hunters on November 28th. In addition, Christmas-themed episodes of Nicky, Ricky, Dicky & Dawn, The Thundermans, and AwesomenessTV debuted on the 29th.
The Hallmark Channel has been showing a dozen new Christmas movies this year. One of them, Northpole, stars American Idol winner Candace Glover and aired in November. Other Hallmark movies coming this year include A Cowboy for Christmas, Angel on my Tree, The Christmas Shepherd, Mr. Miracle, A Royal Christmas, One Christmas Eve (premiering on ABC as a Hallmark Hall of Fame movie), The Nine Lives of Christmas, One Starry Christmas, A Cookie Cutter Christmas, Angels and Ornaments, Christmas Parade, Christmas Party, Christmas Under Wraps, Holiday Help, and a Christmas film based on Signed, Sealed, Delivered.
Lifetime premiered five new Christmas movies - An En Vogue Christmas on November 22nd, Seasons of Love on November 23rd, Grumpy Cat's Worst Christmas Ever on November 29th, Wally Lamb's Wishin' and Hopin' on December 6th, and The Santa Con on December 13th.
The Up TV network debuted three original movies - Naughty & Nice, The Tree That Saved Christmas, and Paper Angels.
Illumination Entertainment is working on an animated movie adaptation of How the Grinch Stole Christmas! that will be directed by Pete Candeland and is scheduled for release on November 27, 2017.
After a four-week contract disagreement that lasted from October 21st to November 21st, the Dish Network satellite service has officially reinstated the Turner networks, including Cartoon Network and Boomerang.
Gerard "Gerry" Parkes, the actor who portrayed Doc in the North American version of Fraggle Rock, passed away at the age of 90 on October 19th.
Animation producer and director Larry Latham, whose credits include The Smurfs episode "Baby's First Christmas" and the 1997 version of Babes in Toyland, and was best known for his work on Disney's TaleSpin, died of cancer on November 2nd.
Upcoming Video Releases
December 16th:
February 3rd:
An individual DVD set of The Bob Newhart Show: The Final Season (which will contain "Twas the Pie Before Christmas") will be released.
For those of you who haven't bought The Wonder Years: The Complete Series DVD set, an individual DVD set of The Wonder Years: Season Two (including the show's first Christmas episode) will be released.
March 10th:
The Pee-Wee's Playhouse: Seasons 3, 4 & 5 DVD set (which contains Pee-wee's Playhouse Christmas Special) will be made available for those who didn't buy the Complete Series DVD or Blu-ray set.
March 17th:
Unknown dates:
The Glee: The Complete 5th Season DVD and Blu-ray sets, which will contain "Previously Unaired Christmas", will be released on a currently unspecified date.
The Michael J. Fox Show: The Complete 1st Season, which will include the show's "Christmas" episode, is planned for release on an unspecified date.
Trivia
Day 1: Which version of A Christmas Carol gave Fred the surname Hollywell?
Day 2: Which Donald Duck cartoons accompanied Winnie the Pooh and Christmas Too in its original broadcasts?
Day 3: Snarl, one of Cosmo Scam's henchmen in The Great Santa Claus Switch, later became which famous Muppet character?
Day 4: In The Madagascar Penguins in a Christmas Caper, who was Private trying to get a Christmas present for?
Day 5: Which animated episode of The Super Mario Bros. Super Show was "Santa Claus is Coming to Flatbush" partnered with?
Day 6: Why did Dolly end up on the Island of Misfit Toys in Rudolph the Red-Nosed Reindeer?
Day 7: In A Charlie Brown Christmas, what color of aluminum tree does Lucy suggest that Charlie Brown should get?
Day 8: "The Santa Experience" marked the first appearance of which Rugrats character?
Day 9: In "A Lost Claus", why does Coco get a job as a mall Santa?
Day 10: In "The Fright Before Christmas!", why does Danny Fenton have a sour attitude about Christmas?
Day 11: Which of Yogi Bear's friends, among those who appeared in Casper's First Christmas, did not appear in Yogi's First Christmas?
Day 12: In "A Very CatDog Christmas", what was Cat hoping to get for Christmas?
Day 13: In "A Christmas Cruella", which character appears as the Ghost of Christmas Yet to Come?
Day 14: In The Smurfs: A Christmas Carol, Grouchy Smurf was upset that he never received what for Christmas?
Day 15: In "A Rocket X-Mas", what is the name of Ray Rocket's favorite Christmas special?
Day 16: In It's Christmastime Again, Charlie Brown, who was Charlie Brown trying to buy a pair of gloves for?
Day 17: In A Goof Troop Christmas: Have Yourself a Goofy Little Christmas, how many strings of Christmas lights did Goofy use to decorate the 100-foot fir tree?
Day 18: Which of the songs featured in A Garfield Christmas Special was not used in the original broadcast version?
Day 19: In "A Christmas Plotz", who is shown to become the CEO of the Warner Bros. Studio in the future that Yakko shows to Mr. Plotz?
Day 20: Who is revealed to be General Klump's long-lost brother in "The Kongo Bongo Festival of Lights"?
Day 21: In A Fairly Odd Christmas, what present does Santa Claus say that he gave to Tootie when she was eight years old?
Day 22: Why did Tigger want a snowshoe for Christmas in Winnie the Pooh and Christmas Too?
Popular Christmas Specials
Popular Christmas Movies
Common Adaptations
Polls
How many Christmas specials and movies do you have in your video collection?