Home
Talk

25
2,618pages on
this wiki
The Christmas Specials Wiki is a website that anyone can edit about our favorite Christmas Specials, movies, TV episodes, characters from within these media and music from them. The wiki format allows anyone to create or edit any article, so we can all work together -- and isn't that the true Christmas spirit? Check out the Help pages to get started! Have any questions? Then just leave a message on JeremyCreek's, Mouseinphilly's, or Jack5555's talk pages.
For information on other holiday specials and movies, visit our sister wiki, the Other Holiday Specials Wiki.
Featured Article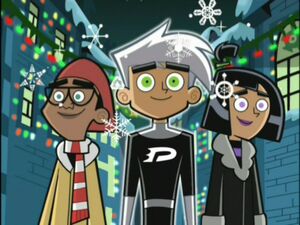 "The Fright Before Christmas!" is the Christmas episode of the Nickelodeon animated series Danny Phantom, aired on December 6, 2005, as part of the show's second season. On his Facebook account, David Kaufman, the voice of the series' protagonist, stated this is one of his favorite episodes. Snow falls in Amity Park as Christmas approaches, and everyone is Christmas shopping at Amity Park Mall, including the trio of friends. While Sam is in a chipper mood, Danny is grumpy and annoyed. When she calls him out on his Scrooge-like attitude, Tucker tells her about "the fight": every Christmas, Maddie and Jack argue over the existence of Santa Claus, wreaking all sorts of havoc in Danny's life. Even as they're talking, they hear Maddie telling nearby children visiting the mall that Santa does not exist while Jack states otherwise. Frustrated, Danny flies to the Ghost Zone, destroying Christmas items to reduce stress. At the same time, the Ghostwriter has completed his Christmas poem, The Fright Before Christmas. Danny accidentally destroys the poem, but doesn't feel so bad due to his hatred of the holiday. Enraged at his behavior, GhostWriter writes a new book, The Fright Before Christmas 2, starring Danny, and blasts him back to Amity Park, where he is now stuck in a rhyming-induced Christmas story in which anything that the GhostWriter writes comes true until Danny's lesson is learned. (more)
---
Vote
HERE
for the next Featured Article.
News
Upcoming Video Releases
April 22nd:
May 6th:
The Andy Griffith Show: Season 1 Blu-ray set, which includes the show's "Christmas Story", will be released.
The Honeymooners: Classic 39 Episodes Blu-ray set, which will include their Christmas episode, will be released.
May 13th:
May 20th:
June 3rd:
July 1st:
RLJ Entertainment is releasing The Twilight Zone: The Complete '80s Series DVD set (which will contain the 1985 version of "Night of the Meek").
Unknown dates:
Popular Christmas Specials
Popular Christmas Movies
Common Adaptations
Polls
How many Christmas specials and movies do you have in your video collection?