The Christmas Specials Wiki is a website that anyone can edit about our favorite Christmas Specials, movies, TV episodes, characters from within these media and music from them. The wiki format allows anyone to create or edit any article, so we can all work together -- and isn't that the true Christmas spirit? Check out the Help pages to get started! Have any questions? Then just leave a message on JeremyCreek's, Mouseinphilly's, or Jack5555's talk pages.
For information on other holiday specials and movies, visit our sister wiki, the Other Holiday Specials Wiki.
Featured Article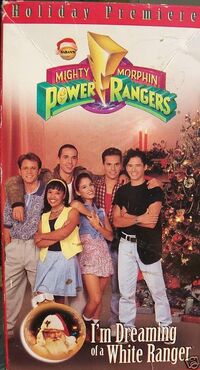 "I'm Dreaming of a White Ranger" is a Christmas-themed episode of the Saban Entertainment television series Mighty Morphin Power Rangers, produced and aired in the show's third season. It was originally released as a direct-to-video special on September 12, 1995, and later aired on Fox Kids on November 25th of that year. The episode title is a reference to the Christmas carol "I'm Dreaming of a White Christmas". It's Christmas time in Angel Grove and, in the Angel Grove Juice Bar, everyone inside is in the spirit. Rangers Adam, Billy, Rocky and Tommy watch the goings-on as Kimberly and Aisha hold a minor pageant within, leading children in singing "We Wish You A Merry Christmas". However, not all is happy. In his base on the Moon, the villainous Lord Zedd shows his displeasure over the holidays and vows that things will be different this year. (more)
---
Vote
HERE
for the next Featured Article.
News
Upcoming Premieres
November 22nd
Upcoming Video Releases
DVD
April 11th
Diff'rent Strokes: The Complete Fifth Season (includes "Santa's Helper")
Father Knows Best: Season Five ("wide" re-release; includes "Christmas Story")
May 2nd
Popular Christmas Specials
Popular Christmas Movies
Common Adaptations
Polls
What do you think of the schedule page being split into two subpages?
Ad blocker interference detected!
Wikia is a free-to-use site that makes money from advertising. We have a modified experience for viewers using ad blockers

Wikia is not accessible if you've made further modifications. Remove the custom ad blocker rule(s) and the page will load as expected.