The Christmas Specials Wiki is a website that anyone can edit about our favorite Christmas Specials, movies, TV episodes, characters from within these media and music from them. The wiki format allows anyone to create or edit any article, so we can all work together -- and isn't that the true Christmas spirit? Check out the Help pages to get started! Have any questions? Then just leave a message on JeremyCreek's, Mouseinphilly's, or Jack5555's talk pages.
For information on other holiday specials and movies, visit our sister wiki, the Other Holiday Specials Wiki.
Featured Article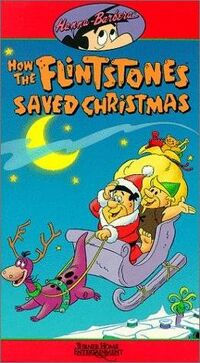 "Christmas Flintstone" is the Christmas episode of the Hanna-Barbera animated sitcom The Flintstones, and as such, it is the first Christmas production starring the Flintstones characters. It was originally aired on ABC on Christmas Day of 1964. A storyline similar to the episode's plot was used thirteen years later for the 1977 special A Flintstone Christmas. The episode opens with Fred and Barney walking around downtown Bedrock at Christmastime, with Fred explaining that he needs extra money to buy presents for his family and friends. Fred then sees a sign advertising an opening for a part-time job at Macyrock's department store and applies for it. When he tells it to Wilma at dinner that evening, she says that she is not sure she likes the idea of him working two jobs, but Fred explains this second job will only be for a week. The next afternoon, Fred heads off to Macyrock's and is assigned to provide work in the gift-wrapping department. Later, while on stockroom duty, Fred takes a look around the toy department and starts goofing off. Mr. Macyrock catches Fred goofing off and orders him to get the stock down to the basement as ordered. Just then, Mr. Macyrock's assistant tells him that the man they hired to play Santa Claus is sick, and they have not been able to get anyone else. Mr. Macyrock then gets the idea to have Fred be the store's Santa Claus. (more...)
---
Vote
HERE
for the next Featured Article.
News
Upcoming Video Releases
September 8th
September 15th
October 6th
October 13th
A new "Grinchmas Edition" Blu-ray of the live-action remake of How the Grinch Stole Christmas! is scheduled for release.
Paramount is releasing a DVD of the 4Kids Teenage Mutant Ninja Turtles cartoon, titled Cowabunga Christmas!, which will of course include "The Christmas Aliens".
Shout! Factory will release The Glen Campbell Goodtime Hour: Christmas Specials compilation DVD.
October 16th
October 20th
October 20th
Not to be outdone by its live-action remake, the animated How the Grinch Stole Christmas! is also getting a 50th Anniversary Deluxe Edition Blu-ray (even though the special's actual 50th anniversary is next year).
October 27th
November 4th
November 10th
November 17th
December 1st
Popular Christmas Specials
Popular Christmas Movies
Common Adaptations
Polls
How many Christmas specials and movies do you have in your video collection?