The Christmas Specials Wiki is a website that anyone can edit about our favorite Christmas Specials, movies, TV episodes, characters from within these media and music from them. The wiki format allows anyone to create or edit any article, so we can all work together -- and isn't that the true Christmas spirit? Check out the Help pages to get started! Have any questions? Then just leave a message on JeremyCreek's, Mouseinphilly's, or Jack5555's talk pages.
For information on other holiday specials and movies, visit our sister wiki, the Other Holiday Specials Wiki.
Featured Article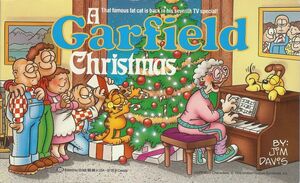 A Garfield Christmas Special (also called A Garfield Christmas for short) is an animated Christmas special based on the newspaper comic strip Garfield by Jim Davis, originally broadcast on CBS on December 21, 1987. In a brightly decorated house, Garfield is awakened by Jon, dressed as an elf, who says that it is Christmas morning and Garfield must be treated to a large amount of lasagna before opening his presents. After Garfield finishes eating the lasagna, Jon presents him with a robotic Santa Claus that reads minds and produces whatever Garfield wants. Garfield is pleased with this, until Jon actually wakes Garfield up and it is revealed that Garfield was just dreaming. Jon tells Garfield that it is Christmas Eve, and that they are going to the countryside to celebrate Christmas with Jon's family on their farm. Garfield, not very keen on the idea, asks why they always have to go to the Arbuckle farm and wonders why Jon's family can never just come to Jon's house instead. (more)
---
Vote
HERE
for the next Featured Article.
News
Upcoming Premieres
November 9
Unknown dates
Upcoming Video Releases
DVD
June 26th
September 24th
Unknown date
Popular Christmas Specials
Popular Christmas Movies
Common Adaptations
Polls
What do you think about Freeform's 25 Days of Christmas expanding to Disney's other networks?