Home
Talk

25
2,602pages on
this wiki
The Christmas Specials Wiki is a website that anyone can edit about our favorite Christmas Specials, movies, TV episodes, characters from within these media and music from them. The wiki format allows anyone to create or edit any article, so we can all work together -- and isn't that the true Christmas spirit? Check out the Help pages to get started! Have any questions? Then just leave a message on JeremyCreek's, Mouseinphilly's, or Jack5555's talk pages.
For information on other holiday specials and movies, visit our sister wiki, the Other Holiday Specials Wiki.
Featured Article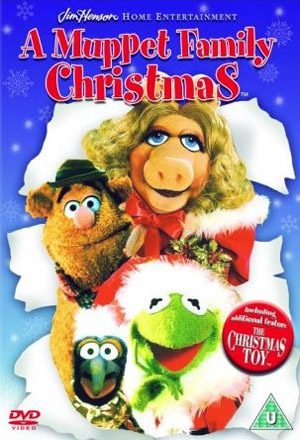 A Muppet Family Christmas is a Christmas television special starring the casts of Sesame Street, The Muppet Show, and Fraggle Rock, originally aired on ABC in 1987. It won an award from the Writers' Guild of America in 1989, and was also nominated for the 1988 Primetime Emmy Award for Outstanding Children's Program. The special opens with most of The Muppet Show cast driving through a blizzard in a pickup truck, singing "We Need a Little Christmas". They have decided to spend Christmas at the old farm where Fozzie Bear's mother, Mrs. Emily Bear, lives. And since she loves surprises, they have not called to tell her they were coming. Unbeknownst to them, Mrs. Bear plans to spend Christmas in Malibu, and she has rented it to Doc and his dog Sprocket from Fraggle Rock. Doc is looking forward to having "a nice, quiet Christmas" in the countryside, but immediately following his and Sprocket's arrival, the Muppets themselves show up. Emily is pleasantly surprised with the appearance of her cub and "his weirdo friends", despite that she now has to cancel her trip to Malibu, and willingly allows them to stay. Doc, on the other hand, is a bit peeved that the house he rented has just gotten so many unexpected visitors, and asks Sprocket if they're "anything like these Fraggles you keep telling me about." Then the telephone rings; it is Miss Piggy, calling to tell Kermit that she has a photo session underway and needs to get it done before she can join them. (more)
---
Vote
HERE
for the next Featured Article.
News
Upcoming Video Releases
March 18th:
"North Pole Cat" will be one of the Heathcliff and the Catillac Cats episodes included on Mill Creek Entertainment's TV Guide Spotlight: Totally '80s Toons DVD set.
April 22nd:
May 6th:
The Andy Griffith Show: Season 1 Blu-ray set, which includes the show's "Christmas Story", will be released.
The Honeymooners: Classic 39 Episodes Blu-ray set, which will include their Christmas episode, will be released.
May 20th:
June 3rd:
Unknown dates:
Popular Christmas Specials
Popular Christmas Movies
Common Adaptations
Polls
How many Christmas specials and movies do you have in your video collection?