The Christmas Specials Wiki is a website that anyone can edit about our favorite Christmas Specials, movies, TV episodes, characters from within these media and music from them. The wiki format allows anyone to create or edit any article, so we can all work together -- and isn't that the true Christmas spirit? Check out the Help pages to get started! Have any questions? Then just leave a message on JeremyCreek's, Mouseinphilly's, or Jack5555's talk pages.
For information on other holiday specials and movies, visit our sister wiki, the Other Holiday Specials Wiki.
Featured Article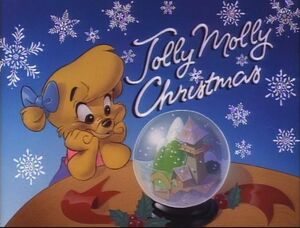 "Jolly Molly Christmas" is the Christmas episode of the Disney Afternoon animated series TaleSpin, and also notably the first Christmas-themed television episode produced by Walt Disney Television Animation. The episode opens on a rainy day at Higher for Hire, as Rebecca telling her daughter Molly about how she always loved to see it snow at Christmastime when she was young, and how she would love to see it snow this year, as it never snows in Cape Suzette. After Rebecca leaves to do her Christmas shopping, Molly starts writing a "special delivery emergency letter" to Santa, when suddenly her last candy cane falls off the desk and breaks apart. Baloo tells her that she should put a piece of it under her pillow so the Peppermint Fairy (a cousin of the Tooth Fairy) can leave a new candy cane in its place. Molly goes to her room to put the candy piece under her pillow, during which Baloo then ties a string to his finger so that he won't forget. The next morning (which is Christmas Eve), while Rebecca rushes out to do some last-minute shopping (the store accidentally gave her the wrong present for Molly yesterday), Baloo wakes up and realizes he forgot to put a candy cane under Molly's pillow. He takes one off of the nearby decorations, but when he goes in to put it under Molly's pillow, she wakes up and catches him in the act. Molly calls out Baloo on lying to her about the Peppermint Fairy, and then says that she's willing to bet Santa Claus isn't real either. Baloo, however, says he can prove to her that Santa exists by flying her up to the North Pole so she can deliver her letter to Santa in person. (more)
---
Vote
HERE
for the next Featured Article.
News
Upcoming Video Releases
May 19th
May 26th
June 2nd
RLJ Entertainment is releasing the Beetle Bailey and Friends: 65th Anniversary Complete Collector's Edition DVD set (which will include "A Christmas Tale").
Unknown dates
Popular Christmas Specials
Popular Christmas Movies
Common Adaptations
Polls
How many Christmas specials and movies do you have in your video collection?