Home
Talk

25
2,679pages on
this wiki
The Christmas Specials Wiki is a website that anyone can edit about our favorite Christmas Specials, movies, TV episodes, characters from within these media and music from them. The wiki format allows anyone to create or edit any article, so we can all work together -- and isn't that the true Christmas spirit? Check out the Help pages to get started! Have any questions? Then just leave a message on JeremyCreek's, Mouseinphilly's, or Jack5555's talk pages.
For information on other holiday specials and movies, visit our sister wiki, the Other Holiday Specials Wiki.
Featured Article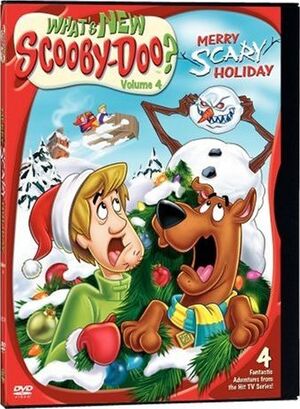 A Scooby-Doo! Christmas, also known as "Ho-Ho-Horrors!" on its Cartoon Network airings, is an animated Christmas special that originally aired on The WB on December 13, 2002. It is the second Christmas episode of the Scooby-Doo cartoon series, the first being "The Nutcracker Scoob". Three kids are playing in the snow when they find a giant snowman. One kid dares a kid named Tommy to pull its carrot nose off. Just as Tommy is pulling the carrot out, the snowman suddenly comes to life and, angered about Tommy trying to pull his nose off, scares the kids. Meanwhile, Scooby and the gang are heading to a condo that Daphne's uncle is allowing the gang to stay at. Unfortunately, they find the bridge to the other side is blocked, forcing them to go to a town and ask if there is a detour. By the time they get there, they find the three kids running away and Daphne asks what was that all about. Shaggy points out to the snowman, but Velma finds it harmless. After Fred, Daphne, and Velma leave, the snowman makes an evil look at Scooby and Shaggy, scaring them. Jed sees the gang and is not happy about it. When Daphne mentions Christmas, he tells her not to say it because Winter Hollow doesn't celebrate it due to the Headless Snowman terrorizing the town. Just then, Sheriff Perkins arrive and tells the gang to not listen to Jed. Velma asks her for directions to Mill Corners, but the sheriff tells her long directions of how to get there, leading the gang to stay in Winter Hollow for the night. (more)
---
Vote
HERE
for the next Featured Article.
News
Upcoming Video Releases
July 22nd:
Mr. St. Nick has been released on DVD.
Echo Bridge Entertainment has released a Double Feature DVD containing Discover Christmas and Time for Miracles, as well as a Princess Christmas Collection DVD set featuring fifteen holiday films.
August 12th:
August 26th:
September 16th:
October:
October 7th:
October 14th:
October 21st:
November 4th:
November 11th:
Unknown dates:
Popular Christmas Specials
Popular Christmas Movies
Common Adaptations
Polls
How many Christmas specials and movies do you have in your video collection?