The Christmas Specials Wiki is a website that anyone can edit about our favorite Christmas Specials, movies, TV episodes, characters from within these media and music from them. The wiki format allows anyone to create or edit any article, so we can all work together -- and isn't that the true Christmas spirit? Check out the Help pages to get started! Have any questions? Then just leave a message on JeremyCreek's, Mouseinphilly's, or Jack5555's talk pages.
For information on other holiday specials and movies, visit our sister wiki, the Other Holiday Specials Wiki.
Featured Article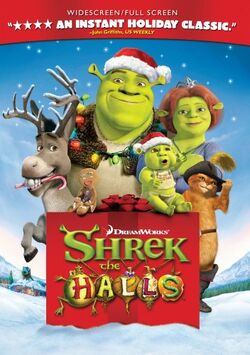 Shrek the Halls is a Christmas special that premiered on ABC on November 28, 2007, based on DreamWorks Animation's Shrek feature film series. The half-hour special features Mike Myers, Eddie Murphy, Cameron Diaz and Antonio Banderas reprising their roles from the feature films. The special, which takes place between the events of Shrek the Third and Shrek Forever After, opens on July 18th, 159 days before Christmas, and Donkey is already starting to prepare for it. Gradually getting closer, he starts annoying Shrek about it until the night before Christmas Eve. Under Donkey's urging, Shrek reluctantly promises Princess Fiona a special Christmas surprise. Shrek goes to the local bookstore in Far, Far Away to try to find a present for Fiona, but since he does not know what Christmas is all about, the shopkeeper gives Shrek a copy of Christmas For Village Idiots, a step-by-step guide to celebrating the holiday. Shrek proceeds to follow the book's advice by decorating the house and getting a tree so he can spend a quiet Christmas Eve with his family, but Donkey brings all their fairy-tale friends to the swamp, ruining Shrek's plans. (more)
---
Vote
HERE
for the next Featured Article.
News
Upcoming Video Releases
July 26th
August 2nd
August 9th
September 20th
The Modern Family: The Complete Season 7 DVD set (which will include the episode "White Christmas") is scheduled for a release.
October 4th
Popular Christmas Specials
Popular Christmas Movies
Common Adaptations
Polls
How many Christmas specials and movies do you have in your video collection?