Home
Talk

25
3,073pages on
this wiki
The Christmas Specials Wiki is a website that anyone can edit about our favorite Christmas Specials, movies, TV episodes, characters from within these media and music from them. The wiki format allows anyone to create or edit any article, so we can all work together -- and isn't that the true Christmas spirit? Check out the Help pages to get started! Have any questions? Then just leave a message on JeremyCreek's, Mouseinphilly's, or Jack5555's talk pages.
For information on other holiday specials and movies, visit our sister wiki, the Other Holiday Specials Wiki.
Featured Article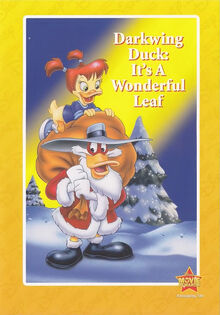 "It's a Wonderful Leaf" is the Christmas episode of the Disney Afternoon animated series Darkwing Duck, originally broadcast on December 23, 1991. The episode's title is a reference to the classic Christmas film It's a Wonderful Life. The episode opens on Christmas Eve at the St. Canard shopping mall, where Dr. Reginald Bushroot, observing the hostile behavior of the other shoppers, finds himself regretting his decision to have waited until the last minute to do his Christmas shopping. While avoiding the frenzied shoppers, Bushroot ducks into a garden shop and starts looking to find presents for the flowers he's able to communicate with. But just as he's found a watering can that would make a perfect gift for one of his plant "friends", another customer takes it from him and knocks him into a nearby barrel. Then, when he accidentally scares a little girl, the girl's mother attacks him with a rake. Bushroot runs out of the store, only to get chased out of the mall by an angry mob. Furious with the horrible treatment he just received from the not-so-jolly mallgoers, Bushroot vows to ruin Christmas for everyone else in St. Canard. Meanwhile, at Drake Mallard's house, he and Launchpad are decorating the Christmas tree. Drake's adopted daughter Gosalyn wants to open her presents right now, but her adoptive father insists that she wait until tomorrow morning. Gosalyn of course attempts to unwrap her presents early anyway, but her attempts fail due to Drake having put an alarm on top of the tree. (more)
---
Vote
HERE
for the next Featured Article.
News
Upcoming Video Releases
February 3rd
February 17th
March 10th
The Pee-Wee's Playhouse: Seasons 3, 4 & 5 DVD set (which contains Pee-wee's Playhouse Christmas Special) will be made available for those who didn't buy the Complete Series DVD or Blu-ray set.
March 17th
March 24th
"Merry Christmas, Mr. Bean" will be featured on Shout! Factory's Mr. Bean - The Whole Bean: Remastered 25th Anniversary Collection DVD set.
April 7th
April 21st
April 28th
Unknown dates
The Michael J. Fox Show: The Complete 1st Season, which will include the show's "Christmas" episode, is planned for release on an unspecified date.
Popular Christmas Specials
Popular Christmas Movies
Common Adaptations
Polls
How many Christmas specials and movies do you have in your video collection?