Home
Talk

25
3,102pages on
this wiki
The Christmas Specials Wiki is a website that anyone can edit about our favorite Christmas Specials, movies, TV episodes, characters from within these media and music from them. The wiki format allows anyone to create or edit any article, so we can all work together -- and isn't that the true Christmas spirit? Check out the Help pages to get started! Have any questions? Then just leave a message on JeremyCreek's, Mouseinphilly's, or Jack5555's talk pages.
For information on other holiday specials and movies, visit our sister wiki, the Other Holiday Specials Wiki.
Featured Article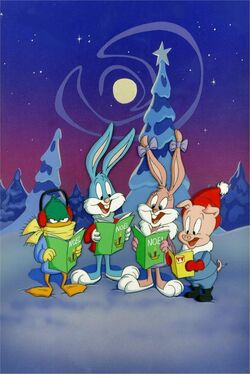 "It's a Wonderful Tiny Toons Christmas Special" is the Christmas-themed episode (and also the series finale) of the Warner Bros. animated television series Tiny Toon Adventures, originally aired as a prime-time special on FOX on December 6, 1992. As suggested by the title (and a line in the opening sequence), the story is a parody of the classic Christmas film It's a Wonderful Life. The special opens on Christmas Eve, much like the opening scene from It's a Wonderful Life, where various characters from the show are praying to the heavens on behalf of their star, Buster Bunny (with Plucky Duck being a seeming exception who then starts praying for Buster's sake when he's convinced that no one else is looking). Up in the sky, God is heard summoning a rabbit angel named Harvey, telling him that Buster is thinking of quitting Tiny Toons because he thinks he's a failure. God then proceeds to show him what circumstances led to this: Earlier that day, Buster is in charge of directing the Tiny Toons holiday special. During the rehearsals, Montana Max, who is in a wheelchair (akin to Mr. Potter) due to an accident he had while skiing with Morgan Fairchild, is outraged to learn that he's been cut out of the special because Buster didn't think he would show up. Furious, Max does everything to ruin the rehearsals - he causes Li'l Sneezer to sneeze during his Christmas Carol sketch, he convinces Babs that Buster is flirting with her ice skating partner Cher, he rigs the stage so that Cher falls into a tub of Acme piranhas, and he places TNT in Plucky and William Shatner's microphones. Everyone takes out their frustration on Buster, and to make matters worse, the FOX network executives put Max in charge of making the special. Feeling he's let everybody down, Buster leaves, causing his friends to worry for him. (more)
---
Vote
HERE
for the next Featured Article.
News
Upcoming Video Releases
April 7th
April 21st
April 28th
May 12th
"Christmas in the Car" will be made available on the Bob's Burgers: The Complete 4th Season manufacture-on-demand DVD set.
May 19th
May 26th
Shout! Factory will release an individual DVD set of Welcome Back, Kotter: The Complete Third Season (including "A Sweathog Christmas Special").
June 2nd
RLJ Entertainment is releasing the Beetle Bailey and Friends: 65th Anniversary Complete Collector's Edition DVD set (which will include "A Christmas Tale").
Unknown dates
The Michael J. Fox Show: The Complete 1st Season, which will include the show's "Christmas" episode, is planned for release on an unspecified date.
Amazon.com is taking preorders for The Big Bang Theory: The Complete 8th Season (which includes "The Clean Room Infiltration") on DVD and Blu-ray.
Popular Christmas Specials
Popular Christmas Movies
Common Adaptations
Polls
How many Christmas specials and movies do you have in your video collection?