The Christmas Specials Wiki is a website that anyone can edit about our favorite Christmas Specials, movies, TV episodes, characters from within these media and music from them. The wiki format allows anyone to create or edit any article, so we can all work together -- and isn't that the true Christmas spirit? Check out the Help pages to get started! Have any questions? Then just leave a message on JeremyCreek's, Mouseinphilly's, or Jack5555's talk pages.
Christmas Day!
For information on other holiday specials and movies, visit our sister wiki, the Other Holiday Specials Wiki.
Featured Article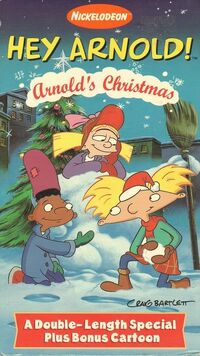 "Arnold's Christmas" is a special half-hour Christmas episode of the Nickelodeon animated series Hey Arnold!, produced and aired in the show's first season. The series creator, Craig Bartlett, has stated it to be one of his personal favorite episodes of the show. The episode begins right as Christmas vacation has started for the students of P.S. 118. While on a walk with her friend Phoebe, Helga Pataki talks about how she thinks Christmas is all about presents and then notices a display case showing off what she wants most for Christmas - a pair of Nancy Spumoni snow boots. Shortly afterward, Helga notices Arnold walking by and soliloquizes about how she secretly loves him and wants to find the perfect gift for him. Meanwhile, at the boarding house where Arnold lives, he and the rest of the boarders assign each other a Secret Santa. In Arnold's case, he has to get a present for Mr. Hyunh, who always seems very sad around Christmastime. (more)
---
Vote
HERE
for the next Featured Article.
News
Upcoming Premieres
November 22nd

November 23rd

November 24th

November 25th

November 26th

December 1st

December 2nd

December 3rd

December 8th

December 9th

December 10th

December 16th

December 17th

December 23rd

December 25th

Unknown dates
Upcoming Video Releases
DVD

November 21st

November 28th

December 5th

January 2nd

January 16th

Be Cool, Scooby-Doo!: Season 1, Part 2 - Teamwork Screamwork (includes "Scary Christmas")
Popular Christmas Specials
Popular Christmas Movies
Common Adaptations
Polls
What do you think about Freeform's 25 Days of Christmas expanding to Disney's other networks?
Ad blocker interference detected!
Wikia is a free-to-use site that makes money from advertising. We have a modified experience for viewers using ad blockers

Wikia is not accessible if you've made further modifications. Remove the custom ad blocker rule(s) and the page will load as expected.