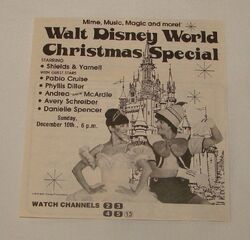 Christmas at Walt Disney World was a Christmas TV special on December 10, 1978 featuring costume characters of various Disney characters that originally aired on NBC.
Credits
Directed by
Cast (in credits order)
Robert Shields ... Mr. Clinker
Lorene Yarnell Jansson ... Ms. Clinker (as Lorene Yarnell)
Danielle Spencer ... Herself / Cinderella
Avery Schreiber ... Geppetto
Phyllis Diller ... Herself
Allan Kinzie ... Dancer
Penelope Sudrow
Holly Gagnier
Cathleen Ludwig
Vicki Firestne
Sterling Holloway ... Sleeping Beauty Narrator (voice)
Joan Gerber ... Evil Fairy (voice)
Dick Tufeld ... Announcer (voice)
The Cook Family Singers ... Performers / Themselves
Pablo Cruise ... Themselves
Andrea McArdle ... Herself
Produced by
Steve Binder ... executive producer
Ron Miller ... executive producer
Music by
Gallery
External links
This page about a Christmas special or an episode from a television series with a Christmas theme is a stub. Please help the Christmas Special Wiki by expanding this article.
Ad blocker interference detected!
Wikia is a free-to-use site that makes money from advertising. We have a modified experience for viewers using ad blockers

Wikia is not accessible if you've made further modifications. Remove the custom ad blocker rule(s) and the page will load as expected.