Ad blocker interference detected!
Wikia is a free-to-use site that makes money from advertising. We have a modified experience for viewers using ad blockers

Wikia is not accessible if you've made further modifications. Remove the custom ad blocker rule(s) and the page will load as expected.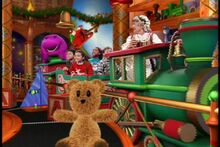 Christmas Is Our Favorite Time Of Year is an original Barney song that was first used in Barney's Night Before Christmas.
Lyrics
We're going on a trip this winter's night
Beneath the moon so bright,
To a place of magic dreams
That's filled with Christmas joy
For every girl and boy.
[Chorus]
There's music in the air
And presents everywhere.
I can't believe my eyes
Oh, what a big surprise.
I'm so happy we are here
'Cause Christmas is our
favorite time of year
Trucks and trains and candy canes,
Boats and planes and learning games,
Marching drums and sugar plums,
There's magic in the air.
Dresses, hats, and baseball bats,
Ribbons, dolls, and bouncing balls,
Building blocks and funny clocks,
There's toys from here to there.
[Chorus]
A racing car, a cool guitar,
A dancing bear, some skates to wear,
A rocking horse, who talks, of course
It's like a dream come true.
Bikes and trikes and pretty kites,
A blue kazoo, a tuba, too,
Some fancy socks, a music box,
I'm glad I'm here with you.
[Chorus]
'Cause Christmas is our favorite time,
Christmas is our favorite time of year.
Barney song used in
Barney's Night Before Christmas
Macy's Thanksgiving Day Parade
A Very Merry Christmas (Scene taken from Barney's Night Before Christmas and dubbed by Dean Wendt)