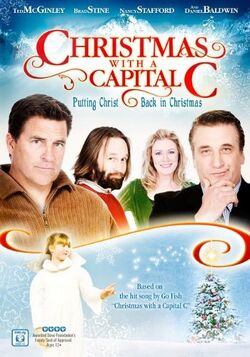 Christmas with a Capital C is a 2010 film directed by Helmut Schleppi. The film's plot was based on a song of the same name by Christian band Go Fish, which in turn was inspired by one of actor Brad Stine's stand-up comedy routines.
This page about a Christmas special or an episode from a television series with a Christmas theme is a stub. Please help the Christmas Special Wiki by expanding this article.
Ad blocker interference detected!
Wikia is a free-to-use site that makes money from advertising. We have a modified experience for viewers using ad blockers

Wikia is not accessible if you've made further modifications. Remove the custom ad blocker rule(s) and the page will load as expected.