Cranberry Christmas is an animated special based on a 1976 children's book of the same name by Wende and Harry Devlin. It was produced by Ocean Spray cranberry company, to be aired commercial-free. It features new music co-written and performed by Barry Manilow.
As of 2015, this special has not been released on DVD or Blu-ray, and it is currently not included in ABC Family's 25 Days of Christmas programming schedule. However, it can be viewed on their website.
Synopsis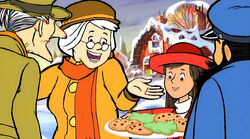 Cyrus Grape won't let the neighborhood children ice skate on the cranberry bog near his home, claiming it is his. A young girl finds the documents they need to disprove his claim. The kids can skate again and everybody has a merry Christmas.
Songs
Notes
Barry Manilow says, "We were moved by this lovely children's story because it celebrates the importance of community as well as the simple pleasures of the holiday season. The songs we wrote for this television special reflect the themes of the story, which we hope will help viewers step back from the holiday hustle and bustle and get in touch with the true spirit of the season."[1]
Cast
References
External links