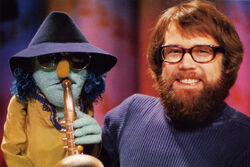 Dave Goelz (born July 16, 1946) has been one of the lead Muppet performers for over 40 years, performing Gonzo, Beauregard, Dr. Bunsen Honeydew, Zoot, Boober Fraggle, Uncle Traveling Matt, and Rugby Tiger, as well as succeeding the role of Waldorf from Jim Henson. He is one of the few major performers to have no prior experience as either an actor or puppeteer.
Christmas specials filmography
Ad blocker interference detected!
Wikia is a free-to-use site that makes money from advertising. We have a modified experience for viewers using ad blockers

Wikia is not accessible if you've made further modifications. Remove the custom ad blocker rule(s) and the page will load as expected.