"Dexter Vs. Santa's Claws" is the Christmas episode of the Cartoon Network original series Dexter's Laboratory.
Synopsis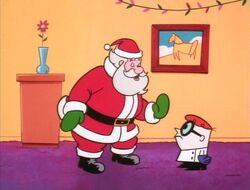 Dexter wants to prove to Dee Dee that Santa Claus doesn't exist, so he sets up a monitoring system on the roof. A man in red finally shows up and when he enters the living room, Dexter tries to take a picture to prove that it's just his dad in a Santa costume. When Santa resists, Dexter decides that more drastic measures must be taken, taking the chase from the bedroom to the rooftop to the skies.
Availability
The episode made its home video debut as a bonus feature on the DVD release of The Powerpuff Girls: 'Twas the Fight Before Christmas in 2003. It was later featured on the Cartoon Network: Christmas Rocks DVD in 2005.
Trivia
Dee Dee takes the microphone from Dexter during his rap. But, in the next scene, the mic on her hand disappears.
Throughout the episode, the number of reindeer changed. When we see them on the computer screen, there are only two. When they were on the roof, there was only one, and when Dexter was chasing Santa, there are eight of them.
Cast
External links
Ad blocker interference detected!
Wikia is a free-to-use site that makes money from advertising. We have a modified experience for viewers using ad blockers

Wikia is not accessible if you've made further modifications. Remove the custom ad blocker rule(s) and the page will load as expected.