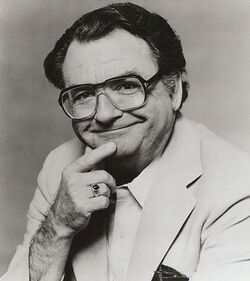 Donald Earl "Don" Messick (September 7, 1926 - October 24, 1997) was an American voice actor who was best known for his voice work for Hanna-Barbera. His best-remembered voice roles include Boo Boo Bear and Ranger Smith from The Yogi Bear Show, Bamm-Bamm Rubble from The Flintstones, Astro from The Jetsons, Scooby-Doo from Scooby-Doo (as well as his nephew Scrappy in later seasons), and Papa Smurf from The Smurfs.
Voice work in Christmas specials
External links
Ad blocker interference detected!
Wikia is a free-to-use site that makes money from advertising. We have a modified experience for viewers using ad blockers

Wikia is not accessible if you've made further modifications. Remove the custom ad blocker rule(s) and the page will load as expected.