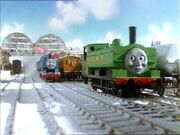 Duck the Great Western Engine is a character in Thomas The Tank Engine. Duck is a loyal, wise engine and a hard worker who does his work without fuss. His personal philosophy and motto is "there are two ways of doing things: the Great Western way, or the wrong way". over the years, has been played by Ringo Starr, Michael Angelis, George Carlin, Alec Baldwin, and Michael Brandon, and now recently, by Steven Kynman. The christmas episodes Duck has appeared in are as follows: Thomas and the Missing Christmas Tree, Thomas and Percy's Christmas Adventure, and Toby Had a Little Lamb.
Gallery
Ad blocker interference detected!
Wikia is a free-to-use site that makes money from advertising. We have a modified experience for viewers using ad blockers

Wikia is not accessible if you've made further modifications. Remove the custom ad blocker rule(s) and the page will load as expected.