The Easter Bunny is a character depicted as a rabbit who brings baskets filled with colored eggs, candy, and sometimes toys to the homes of children, and as such shows similarities to Santa Claus. As a character associated with Easter, he does not often appear in Christmas specials, with the notable exceptions listed below.
Appearances in Christmas specials
Elmo Saves Christmas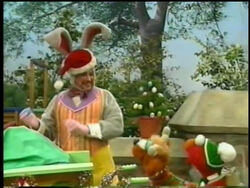 The Easter Bunny makes a brief appearance in the Sesame Street special Elmo Saves Christmas, portrayed by Harvey Fierstein.
The Fairly Oddparents
The Easter Bunny is one of the holiday mascots who is featured in the Nickelodeon animated series The Fairly OddParents, appearing in the series' first Christmas episode, "Christmas Every Day!" When Timmy Turner wishes that Christmas would be everyday, the Easter Bunny joins forces with Cupid, the April Fool, and Baby New Year in a plot to eliminate Santa Claus and end Christmas. The Easter Bunny owns a Dachshund, who he dresses up as a pumpkin-headed dog (claiming it was the "Spirit of Halloween"), since he doesn't like to travel without him.
Although The Fairly OddParents would later get an Easter-themed story (in the storybook Timmy's Eggs-Ray Vision), the Easter Bunny did not appear in that. He does, however, appear at Timmy's Fairy-versary party in the movie Abra-Catastrophe!
The Santa Clause trilogy
The Easter Bunny also appears as a supporting character in The Santa Clause 2 and 3, portrayed by Jay Thomas. In these films, he is a member of the Council of Legendary Figures.
External links
Ad blocker interference detected!
Wikia is a free-to-use site that makes money from advertising. We have a modified experience for viewers using ad blockers

Wikia is not accessible if you've made further modifications. Remove the custom ad blocker rule(s) and the page will load as expected.