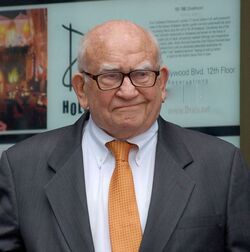 Edward "Ed" Asner (born November 15, 1929 in Kansas City, Missouri) is an Emmy award-winning film, television, stage, and voice actor, and a former president of the Screen Actors Guild. He is best known for playing Lou Grant, first on The Mary Tyler Moore Show and then on his own Lou Grant spin-off series, making him one of the few television actors to portray the same leading character in both a comedy and a drama. In the early 1990s, he began a prolific second career as a voice-over artist on animated series. His voice work includes such characters as J. Jonah Jameson in the 1990s Spider-Man animated series, Hudson on Gargoyles, Sergeant Mike Cosgrove on Freakazoid!, and Carl Fredricksen in the Pixar film Up.
Christmas specials filmography
Live-action
Animation
Hybrid
External links
Ad blocker interference detected!
Wikia is a free-to-use site that makes money from advertising. We have a modified experience for viewers using ad blockers

Wikia is not accessible if you've made further modifications. Remove the custom ad blocker rule(s) and the page will load as expected.