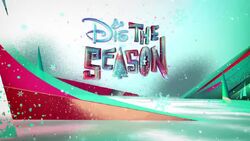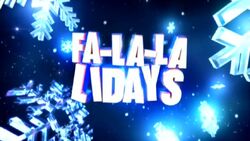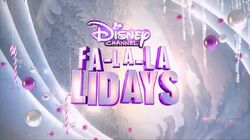 Dis the Season, formerly titled Fa-La-La-Lidays, is the annual Christmas programming line-up on the Disney Channel, consisting of Christmas movies (both newly-made and acquired) and Christmas-themed episodes of Disney Channel shows.
Due to Disney expanding Freeform's annual 25 Days of Christmas to their other channels, it is unlikely that Dis the Season will return for the 2017 holiday season.
Featured specials and movies
The following specials, episodes, and movies have aired as part of Fa-La-La-Lidays.
Premieres
2011
2012
2013
2014
2015
2016
Reruns
The following specials that have aired as part of Dis the Season are ones that either originally aired on another network or premiered on the Disney Channel (or sister network Disney XD) before the programming event debuted.
Ad blocker interference detected!
Wikia is a free-to-use site that makes money from advertising. We have a modified experience for viewers using ad blockers

Wikia is not accessible if you've made further modifications. Remove the custom ad blocker rule(s) and the page will load as expected.