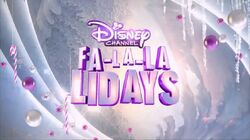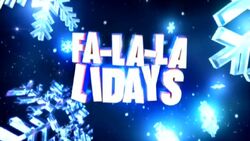 Fa-La-La-Lidays is the name given to the annual Christmas programming line-up on the Disney Channel. Adopting its current name in December 2011, it consists of Christmas movies and Christmas-themed episodes of Disney Channel shows.
Featured specials and movies
The following specials, episodes, and movies have aired as part of Fa-La-La-Lidays.
Premieres
2011
2012
2013
2014
2015
Reruns
The following specials that have aired as part of Fa-La-La-Lidays are ones that either originally aired on another network or premiered on the Disney Channel (or sister network Disney XD) before the programming event debuted.
This page about a Christmas special or an episode from a television series with a Christmas theme is a stub. Please help the Christmas Special Wiki by expanding this article.