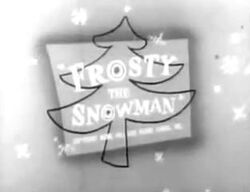 In 1954, the UPA studio brought "Frosty" to life in a three-minute animated short, directed by Robert Cannon, which appears regularly on WGN-TV. This production included a bouncy, jazzy a cappella version of the song and a limited animation style reminiscent of UPA's Gerald McBoing-Boing. The short, filmed entirely in black-and-white, has been a perennial WGN-TV Christmas classic, and was broadcast on December 24 and 25, 1955, and every year since, as part of a WGN-TV children's programming retrospective, along with their two other short Christmas classics, "Suzy Snowflake" and "Hardrock, Coco and Joe." The short had previously been telecast annually on WGN's The Bozo Show, along with its two other companion cartoons. The three cartoons are also a tradition on WJAC-TV in Johnstown, Pennsylvania, which not only broadcasts the cartoons on their station, but also makes them available on their website.
Gallery
Ad blocker interference detected!
Wikia is a free-to-use site that makes money from advertising. We have a modified experience for viewers using ad blockers

Wikia is not accessible if you've made further modifications. Remove the custom ad blocker rule(s) and the page will load as expected.