Grover is one of the regular Muppet characters from the television series Sesame Street. He is a furry blue monster who rarely uses contractions when speaking. His character is multi-talented, taking on many different roles and professions, such as working as a waiter at Charlie's Restaurant or as a superhero named Super Grover.
Appearances in Christmas specials
Sesame Street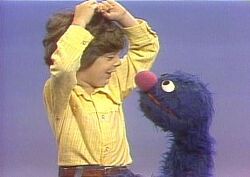 Christmas Eve on Sesame Street - In the very first Sesame Street Christmas special, Grover and Kermit the Frog inquire various kids for their theories about how Santa Claus is able to come down a chimney.
Elmo Saves Christmas - Grover works as a Christmas tree salesman. Throughout the special, he is shown trying to sell Christmas trees to Mr. Johnson, and later having to sell a coat rack (in the summer months) and even his own "Christmas Trees for Sale" sign (on next year's Christmas) because Elmo's wish for Christmas to be every day has caused a shortage of Christmas trees. At the end of the special, Grover can be seen singing "Keep Christmas With You (All Through the Year)" along with the other citizens of Sesame Street.
Other Christmas productions
External links
This article about a character from either a Christmas movie, television episodic series or special with a Christmas theme is a stub. Please help to expand this article in the Christmas Specials Wikia.