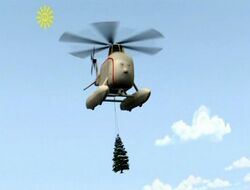 Harold the Helicopter is a character in the Railway Series books by Rev. W. Awdry and Christopher Awdry and the television series Thomas the Tank Engine & Friends. He is a helicopter who speaks in a manner reminiscent of an RAF pilot as depicted in movies of the 1940s and 50s, using terms such as "wizard" in conversation. He is very proud of being able to fly, and the speed and versatility this gives him. This has led to rivalries with the engines, most notably a race with Percy in his first appearance. Despite this, he is a friend to the railway and has often been able to help the engines out, even though they do sometimes refer to him as "whirlybird".
He is owned by the Coastguard on Sodor, and lives at Dryaw airfield by Thomas' branch line. He keeps a watchful eye over the island in case of trouble, and speeds to the rescue of anyone in distress.
Appearances in Christmas specials
External links
This article about a character from either a Christmas movie, television episodic series or special with a Christmas theme is a stub. Please help to expand this article in the Christmas Specials Wikia.
Ad blocker interference detected!
Wikia is a free-to-use site that makes money from advertising. We have a modified experience for viewers using ad blockers

Wikia is not accessible if you've made further modifications. Remove the custom ad blocker rule(s) and the page will load as expected.