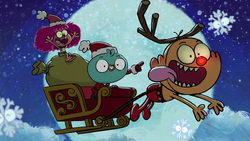 "It's Christmas, You Dorks!" is the Christmas-themed episode of the Nickelodeon animated series Harvey Beaks, originally aired on December 9, 2016, following the premiere of Albert. It is also the last episode of the series to premiere on the main Nickelodeon network, with all later episodes premiering on the NickToons network. It features stop-motion segments provided by Screen Novelties, who also did the stop-motion animation for "It's a SpongeBob Christmas!"
Summary
Old Man Winter visits Little Bark Grove and transforms the town into a musical, bizarre Christmas wonderland!
External links
This page about a Christmas special or an episode from a television series with a Christmas theme is a stub. Please help the Christmas Special Wiki by expanding this article.