"Kid vs. Kat vs. Christmas" is a special half-hour Christmas-themed episode of the YTV animated series Kid vs. Kat. It first aired on Disney XD in the US on November 30, 2009, and then aired on YTV in Canada on December 19th of the same year.
Synopsis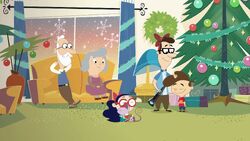 Part 1
Coop's hopes of a normal Christmas are shattered by the fact that Kat is constantly getting him in trouble, so he decides to take Dennis' advice and initiate a cease-fire with Kat but will Kat agree to a cease-fire with his mortal enemy, Coop?
Part 2
Kat wants nothing more this Christmas but to get home to Planet Catnip and his family, but will Coop misunderstand Kat's intentions again (like in episode 11)?
See also
External links
Ad blocker interference detected!
Wikia is a free-to-use site that makes money from advertising. We have a modified experience for viewers using ad blockers

Wikia is not accessible if you've made further modifications. Remove the custom ad blocker rule(s) and the page will load as expected.