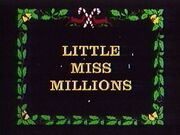 For 9-year-old Heather Lofton, having millions is misery! Stuck with a money-grabbing stepmother, she escapes to find her real mother. But her stepmom isn't about to let her meal ticket go without a battle. So she hires Nick Frost, Private Eye, to bring her back. Then in a crafty case of double cross, she sics the Feds on Nick - for the kidnapping of one Little Miss Millions!
Ad blocker interference detected!
Wikia is a free-to-use site that makes money from advertising. We have a modified experience for viewers using ad blockers

Wikia is not accessible if you've made further modifications. Remove the custom ad blocker rule(s) and the page will load as expected.