The Christmas Specials Wiki is a website that anyone can edit about our favorite Christmas Specials, movies, TV episodes, characters from within these media and music from them. The wiki format allows anyone to create or edit any article, so we can all work together -- and isn't that the true Christmas spirit? Check out the Help pages to get started! Have any questions? Then just leave a message on JeremyCreek's, Mouseinphilly's, or Jack5555's talk pages.
For information on other holiday specials and movies, visit our sister wiki, the Other Holiday Specials Wiki.
Featured Article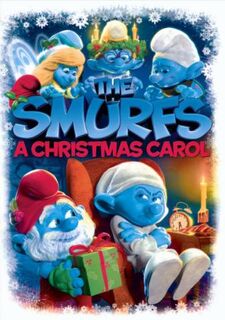 The Smurfs: A Christmas Carol is the most recent Christmas special starring the characters from the Belgian comic series Les Schtroumpfs by Peyo. It was originally released on a bonus DVD with the Blu-ray release of the 2011 Smurfs movie. As the title suggests, it is an adaptation of Charles Dickens' A Christmas Carol, with Grouchy Smurf playing a role similar to Ebenezer Scrooge, while Smurfette, Brainy, and Hefty play the respective roles of the Ghosts of Christmas Past, Present, and Future. It features a mix of CGI animation and traditional animation. As Papa Smurf and some other Smurfs go through the village singing Christmas carols, they notice that Grouchy's house is the only house that hasn't been decorated. They go to visit him to find out what's wrong, and he tells them that he hates Christmas, slamming the door in their faces. Papa Smurf goes to his laboratory to create something that will hopefully help Grouchy regain the Christmas spirit that he seems to have lost. Soon a blue glowing ball of light travels through the village and enters into Grouchy's house, where it strikes him and causes him to fall asleep. (more)
---
Vote
HERE
for the next Featured Article.
News
Upcoming Premieres
November 22nd
Unknown dates
Upcoming Video Releases
DVD
May 2nd
May 9th
The Wayans Bros.: The Complete Second Season (includes "Psycho Santa")
May 23rd
Static Shock: The Complete Second Season (includes "Frozen Out")
June 6th
June 27th
Popular Christmas Specials
Popular Christmas Movies
Common Adaptations
Polls
What do you think of the schedule page being split into two subpages?
Ad blocker interference detected!
Wikia is a free-to-use site that makes money from advertising. We have a modified experience for viewers using ad blockers

Wikia is not accessible if you've made further modifications. Remove the custom ad blocker rule(s) and the page will load as expected.