The Christmas Specials Wiki is a website that anyone can edit about our favorite Christmas Specials, movies, TV episodes, characters from within these media and music from them. The wiki format allows anyone to create or edit any article, so we can all work together -- and isn't that the true Christmas spirit? Check out the Help pages to get started! Have any questions? Then just leave a message on JeremyCreek's, Mouseinphilly's, or Jack5555's talk pages.
For information on other holiday specials and movies, visit our sister wiki, the Other Holiday Specials Wiki.
Featured Article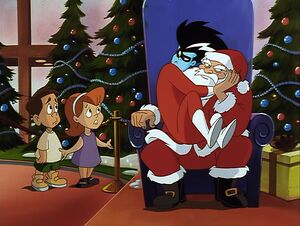 "In Arms Way" is a Christmas-themed segment from the tenth episode of the Warner Bros. animated television series Steven Spielberg presents Freakazoid! The episode featuring the segment was originally broadcast on Kids' WB! on December 16, 1995. The segment begins on Christmas Eve with Freakazoid busy trying to do his Christmas shopping, having unfortunately waited until the last minute to do so. While Freakazoid is out looking for presents for his friends and family, a nearby coffee shop receives a sudden visit from Arms Akimbo, a mobster whose arms are permanently fixed in a jaunty pose. Joe the announcer tells Akimbo's origin to the viewers, explaining that he was raised by his parents to be a print model, and after years of posing that left his arms frozen in their position, he turned to a life of crime. Akimbo tells the coffee shop's clerk that he is here to sell "Oops Insurance", and by that, he means that he and his henchmen will knock everything in the store to the ground unless the proprietors give him all their money. (more...)
---
Vote
HERE
for the next Featured Article.
News
Upcoming Video Releases
September 8th
September 15th
October 6th
October 13th
A new "Grinchmas Edition" Blu-ray of the live-action remake of How the Grinch Stole Christmas! is scheduled for release.
Paramount is releasing a DVD of the 4Kids Teenage Mutant Ninja Turtles cartoon, titled Cowabunga Christmas!, which will of course include "The Christmas Aliens".
Shout! Factory will release The Glen Campbell Goodtime Hour: Christmas Specials compilation DVD.
October 16th
October 20th
October 20th
Not to be outdone by its live-action remake, the animated How the Grinch Stole Christmas! is also getting a 50th Anniversary Deluxe Edition Blu-ray (even though the special's actual 50th anniversary is next year).
October 27th
November 4th
November 10th
December 1st
Popular Christmas Specials
Popular Christmas Movies
Common Adaptations
Polls
How many Christmas specials and movies do you have in your video collection?