The Christmas Specials Wiki is a website that anyone can edit about our favorite Christmas Specials, movies, TV episodes, characters from within these media and music from them. The wiki format allows anyone to create or edit any article, so we can all work together -- and isn't that the true Christmas spirit? Check out the Help pages to get started! Have any questions? Then just leave a message on JeremyCreek's, Mouseinphilly's, or Jack5555's talk pages.
For information on other holiday specials and movies, visit our sister wiki, the Other Holiday Specials Wiki.
Featured Article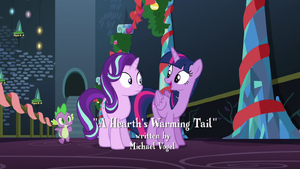 "A Hearth's Warming Tail" is the third Christmas-themed episode of the Hasbro animated television series My Little Pony: Friendship is Magic, produced and aired in the show's sixth season. Its plot is based on Charles Dickens' A Christmas Carol. It premiered on Discovery Family on May 14, 2016. The episode opens in Ponyville as all the ponies are decorating the town and Castle of Friendship for Hearth's Warming. Twilight Sparkle, in particular, is excited for the recently-reformed Starlight Glimmer to celebrate her first Hearth's Warming Eve in Ponyville. But Starlight feels that she would rather skip the holiday, considering it to be "just an excuse for silly songs and fun". When Twilight tries to explain the holiday's importance, Starlight says she already knows the story of how Earth ponies, Pegasi, and unicorns came together to vanquish the windigos (as elaborated upon in "Hearth's Warming Eve"), so Twilight instead decides to tell her favorite holiday story - A Hearth's Warming Tale, a story about an Ebenezer Scrooge-esque unicorn named Snowfall Frost, who hates Hearth's Warming Eve and values studying and magic above all else. (more)
---
Vote
HERE
for the next Featured Article.
News
Upcoming Premieres
October 28th

November 3rd

November 4th

November 5th

November 10th

November 11th

November 12th

November 18th

November 19th

November 22nd

November 23rd

November 24th

November 25th

November 26th

December 2nd

December 3rd

December 9th

December 10th

December 16th

December 17th

December 23rd

December 25th

Unknown dates
Upcoming Video Releases
DVD
October 17th

October 24th

October 31st

November 1st

November 7th

November 14th

November 21st

November 28th

December 5th

January 2nd

Blu-ray
October 24th

November 7th

November 14th

4K Ultra HD Blu-ray
October 17th

October 24th
Popular Christmas Specials
Popular Christmas Movies
Common Adaptations
Polls
Should the schedule pages start covering Christmas in July broadcasts?
Ad blocker interference detected!
Wikia is a free-to-use site that makes money from advertising. We have a modified experience for viewers using ad blockers

Wikia is not accessible if you've made further modifications. Remove the custom ad blocker rule(s) and the page will load as expected.