The Christmas Specials Wiki is a website that anyone can edit about our favorite Christmas Specials, movies, TV episodes, characters from within these media and music from them. The wiki format allows anyone to create or edit any article, so we can all work together -- and isn't that the true Christmas spirit? Check out the Help pages to get started! Have any questions? Then just leave a message on JeremyCreek's, Mouseinphilly's, or Jack5555's talk pages.
For information on other holiday specials and movies, visit our sister wiki, the Other Holiday Specials Wiki.
Featured Article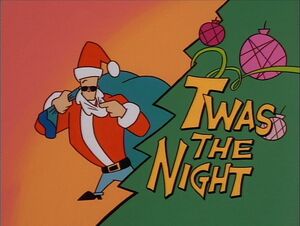 "Twas the Night" is the first of two Christmas episodes of the Cartoon Network original series Johnny Bravo, aired in the show's first season and narrated by the late Adam West. It is Christmas Eve in Aron City, and Johnny is awoken from his sleep when he hears a noise. As his mother, Bunny, is still sleeping, having drifted off to sleep during a marathon of It's a Wonderful Life, Johnny heads up to the roof to investigate. He finds Santa and, mistaking him for a burglar, knocks him unconscious with a flying kick before realizing his mistake. After the big guy regains consciousness, he tells Johnny that he broke his arm, and thus Johnny will have to fill in for him. (more)
---
Vote
HERE
for the next Featured Article.
News
Upcoming Premieres
November 3rd

November 10th

November 22nd

Unknown dates

Unknown dates (continued)
Upcoming Video Releases
Popular Christmas Specials
Popular Christmas Movies
Common Adaptations
Polls
Should the schedule pages start covering Christmas in July broadcasts?
Ad blocker interference detected!
Wikia is a free-to-use site that makes money from advertising. We have a modified experience for viewers using ad blockers

Wikia is not accessible if you've made further modifications. Remove the custom ad blocker rule(s) and the page will load as expected.