The Christmas Specials Wiki is a website that anyone can edit about our favorite Christmas Specials, movies, TV episodes, characters from within these media and music from them. The wiki format allows anyone to create or edit any article, so we can all work together -- and isn't that the true Christmas spirit? Check out the Help pages to get started! Have any questions? Then just leave a message on JeremyCreek's, Mouseinphilly's, or Jack5555's talk pages.
For information on other holiday specials and movies, visit our sister wiki, the Other Holiday Specials Wiki.
Featured Article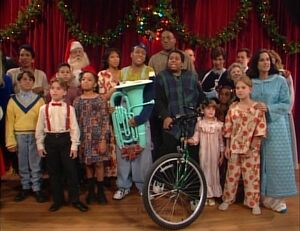 "Merry Christmas, Kenan" is the Christmas episode of the Nickelodeon sitcom Kenan & Kel, produced and aired as the eleventh episode of the show's first season. It premiered on the same night as "Arnold's Christmas" and "O' Christmas Pete". The episode begins like all Kenan & Kel episodes, with Kenan and Kel appearing onstage to greet the audience. Kel tells the audience that tonight's episode is going to be special; when Kenan asks why that is, Kel responds that it's their Christmas show. Kenan remarks that it doesn't quite feel like Christmas, at which point Kel tells the special effects men to make it snow on the set, and then has someone bring in a one-horse open sleigh (without the horse, though, more resembling a rickshaw). Kenan takes off in the sleigh, saying that "this could be a very merry Christmas." Kel calls out for him to come back and then walks off, muttering his catch phrase, "Awwww, here it goes!", as the main story begins. (more)
---
Vote
HERE
for the next Featured Article.
News
Upcoming Premieres
October 29th

November 5th

November 6th

November 11th

November 12th

November 13th

November 19th

November 20th

November 23rd

November 24th

November 25th

November 26th

November 27th

December 3rd

December 4th

December 9th

December 10th

December 11th

December 17th

December 18th

December 25th

January 1st
Upcoming Video Releases
DVD
November 1st

November 23rd

November 8th

November 15th

November 22nd

December 6th

December 13th

Blu-ray
November 24th

Doctor Who: The Christmas Specials Gift Set
Popular Christmas Specials
Popular Christmas Movies
Common Adaptations
Polls
How many Christmas specials and movies do you have in your video collection?