The Christmas Specials Wiki is a website that anyone can edit about our favorite Christmas Specials, movies, TV episodes, characters from within these media and music from them. The wiki format allows anyone to create or edit any article, so we can all work together -- and isn't that the true Christmas spirit? Check out the Help pages to get started! Have any questions? Then just leave a message on JeremyCreek's, Mouseinphilly's, or Jack5555's talk pages.
For information on other holiday specials and movies, visit our sister wiki, the Other Holiday Specials Wiki.
Featured Article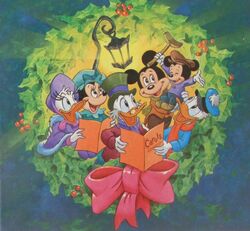 Mickey's Christmas Carol is a 1983 theatrical featurette featuring established Disney characters enacting A Christmas Carol. Originally intended for a televised premiere on CBS in 1982 but pushed back a year due to an animators' strike, the special was inspired by An Adaptation of Dickens' Christmas Carol, Performed by The Walt Disney Players, a 1972 record conceived by Alan Young and Alan Dineheart. The film marked the first screen production in which Young provided the voice of Uncle Scrooge McDuck, whom he voiced on the aforementioned album. The featurette also marked the first theatrical outing for Wayne Allwine as the voice of Mickey Mouse, as well as Clarence Nash's final performance as the voice of Donald Duck. In addition to Scrooge McDuck as his namesake, the cast includes Mickey as Bob Cratchit, Donald as Scrooge's nephew Fred, Daisy Duck as Scrooge's first love, Minnie Mouse as Mrs. Cratchit, Morty Fieldmouse (one of Mickey's nephews) as Tiny Tim, Goofy as the Ghost of Jacob Marley, Jiminy Cricket as the Ghost of Christmas Past, Willie the Giant (from Fun and Fancy Free) as the Ghost of Christmas Present, Pete as the Ghost of Christmas Future, and scores of other cameos from the theatrical shorts and films. (more)
---
Vote
HERE
for the next Featured Article.
News
Upcoming Video Releases
June 28th
July 5th
July 12th
August 9th
Popular Christmas Specials
Popular Christmas Movies
Common Adaptations
Polls
How many Christmas specials and movies do you have in your video collection?