The Christmas Specials Wiki is a website that anyone can edit about our favorite Christmas Specials, movies, TV episodes, characters from within these media and music from them. The wiki format allows anyone to create or edit any article, so we can all work together -- and isn't that the true Christmas spirit? Check out the Help pages to get started! Have any questions? Then just leave a message on JeremyCreek's, Mouseinphilly's, or Jack5555's talk pages.
For information on other holiday specials and movies, visit our sister wiki, the Other Holiday Specials Wiki.
Featured Article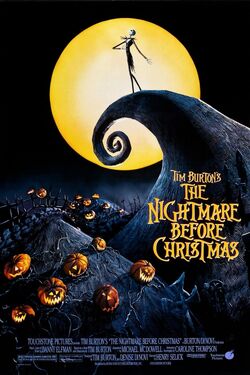 Tim Burton's The Nightmare Before Christmas is a 1993 stop-motion fantasy film, directed by Henry Selick and produced/co-written by Tim Burton. The movie originated as a poem written by Tim Burton in 1982, while he was working as a Disney animator. With the success of Vincent in 1982, Disney started to consider The Nightmare Before Christmas as either a short subject or 30-minute television special. Over the years, Burton's thoughts regularly returned to the project, and in 1990, Burton and Disney made a development deal. The film begins in a magical place called Halloween Town, all of the town's citizens have gathered to celebrate their holiday and success after terrifying the world. However, Jack Skellington, the pumpkin king and most-acclaimed citizen of the town, a de-facto leader, has become tired of this holiday and no longer sees the point of scaring people. The night after the celebration he takes a long walk through the forest with his ghost dog Zero (who has a glowing pumpkin for a nose), where he finds doorways to other holidays. Intrigued by one showing a bright green tree with decorations, Jack opens the door and falls down a hole leading into Christmas Town. Amazed by the snow, color, and wonder he sees, Jack becomes fascinated with Christmas. (more...)
---
Vote
HERE
for the next Featured Article.
News
Upcoming Premieres
October 27th

November 3rd

November 4th

November 9th

November 10th

November 11th

November 17th

November 18th

November 20th

November 21st

November 22nd

November 23rd

November 24th

November 25th

November 30th

December 1st

December 2nd

December 7th

December 8th

December 9th

December 14th

December 15th

December 16th

December 22nd

December 23rd

December 25th

Unknown dates
Upcoming Video Releases
DVD

October 16th

October 23rd

October 30th

Murdoch Mysteries: The Christmas Cases Collection




November 6th

November 13th

November 20th

November 27th




December 4th

December 11th

Blu-ray

October 16th

October 23rd

October 30th

November 13th

December 11th
Popular Christmas Specials
Popular Christmas Movies
Common Adaptations
Polls
What do you think about Freeform's 25 Days of Christmas expanding to Disney's other networks?