Home
Talk

25
2,735pages on
this wiki
The Christmas Specials Wiki is a website that anyone can edit about our favorite Christmas Specials, movies, TV episodes, characters from within these media and music from them. The wiki format allows anyone to create or edit any article, so we can all work together -- and isn't that the true Christmas spirit? Check out the Help pages to get started! Have any questions? Then just leave a message on JeremyCreek's, Mouseinphilly's, or Jack5555's talk pages.
For information on other holiday specials and movies, visit our sister wiki, the Other Holiday Specials Wiki.
Featured Article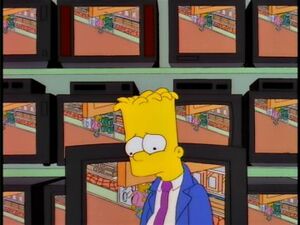 "Marge Be Not Proud" is the second Christmas-themed episode of The Simpsons, aired in the show's seventh season. The writers had been thinking about doing a second Christmas show for many years, but no one wanted to take it on because they thought that they would just be repeating the first episode. After this episode, new Christmas episodes were made almost every other year. Bart sees a commercial advertising the fighting game Bonestorm, and decides he must have it. However, Marge tells him no, because it costs too much and is too violent. Bart makes other attempts to obtain or play the game, but they fail. Discouraged, he visits the local Try-N-Save discount store. Inside in the electronics section, Bart sees Jimbo and Nelson shoplifting from the store. Bart sees that the video game case has been left open, and, no longer able to resist the temptation, takes a copy of Bonestorm, hides it in his jacket, and walks out of the store. Outside, Bart thinks he's home free, only to get caught by the store's security officer, Detective Don Brodka. (more)
---
Vote
HERE
for the next Featured Article.
News
Upcoming Video Releases
September 30th:
Warner Home Video is releasing a "Diamond Luxe Edition" Blu-ray of Gremlins to celebrate the film's 30th anniversary.
October:
October 7th:
October 14th:
October 21st:
November 4th:
November 11th:
November 18th:
December 2nd:
Warner Home Video is issuing a 50th Anniversary Edition DVD of A Charlie Brown Christmas (even though the special's 50th anniversary is actually next year).
January 27th:
Unknown dates:
Popular Christmas Specials
Popular Christmas Movies
Common Adaptations
Polls
How many Christmas specials and movies do you have in your video collection?