The Christmas Specials Wiki is a website that anyone can edit about our favorite Christmas Specials, movies, TV episodes, characters from within these media and music from them. The wiki format allows anyone to create or edit any article, so we can all work together -- and isn't that the true Christmas spirit? Check out the Help pages to get started! Have any questions? Then just leave a message on JeremyCreek's, Mouseinphilly's, or Jack5555's talk pages.
For information on other holiday specials and movies, visit our sister wiki, the Other Holiday Specials Wiki.
Featured Article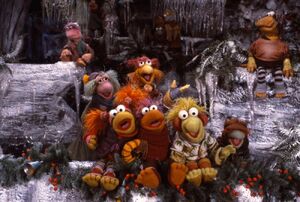 "The Bells of Fraggle Rock" is a Christmas-themed episode of the Jim Henson Television series Fraggle Rock, produced as the first episode of the show's third season. It premiered on HBO on Christmas Eve of 1984, and was repeated there each Christmas until HBO dropped the show in 1988. It was then aired in the shows' reruns on TNT from 1988 to 1992, the Disney Channel from 1992 to 1996, the Odyssey Network from 1999 to 2001, the Hub Network from 2010 to 2013, on ABC Family's 25 Days of Christmas in 2015 (as a one-shot special; the series itself was not aired on that particular channel), and most recently on HBO Family as of 2017. As the episode opens on Doc and Sprocket being excited about the upcoming holiday, the Fraggles, meanwhile, are prepping for their own special holiday festivities, the Festival of the Bells. However, Gobo questions the true meaning of this particular holiday. Wembley describes the legend of the Great Bell, which is supposedly located at the heart of the rock; every year, the rock gets colder and starts slowing down, and unless the Fraggles ring their bells at the festival, the rock will eventually stop altogether and freeze forever. Gobo says that nobody has ever seen this Great Bell and questions its very existence. Gobo takes out a map and Wembley accidentally discovers a cave shaped like a bell drawn on the map. (more)
---
Vote
HERE
for the next Featured Article.
News
Upcoming Premieres
November 9
Unknown dates
Upcoming Video Releases
DVD
January 2nd
January 16th
Be Cool, Scooby-Doo!: Season 1, Part 2 - Teamwork Screamwork (includes "Scary Christmas")
Popular Christmas Specials
Popular Christmas Movies
Common Adaptations
Polls
What do you think about Freeform's 25 Days of Christmas expanding to Disney's other networks?
Ad blocker interference detected!
Wikia is a free-to-use site that makes money from advertising. We have a modified experience for viewers using ad blockers

Wikia is not accessible if you've made further modifications. Remove the custom ad blocker rule(s) and the page will load as expected.