The Christmas Specials Wiki is a website that anyone can edit about our favorite Christmas Specials, movies, TV episodes, characters from within these media and music from them. The wiki format allows anyone to create or edit any article, so we can all work together -- and isn't that the true Christmas spirit? Check out the Help pages to get started! Have any questions? Then just leave a message on JeremyCreek's, Mouseinphilly's, or Jack5555's talk pages.
For information on other holiday specials and movies, visit our sister wiki, the Other Holiday Specials Wiki.
Featured Article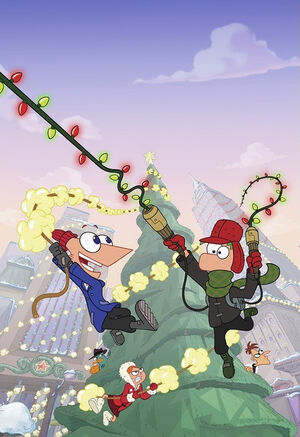 Phineas and Ferb Christmas Vacation! is a special extended Christmas episode from the second season of the Disney Channel animated series Phineas and Ferb, originally aired on December 6, 2009, on Disney XD, preceded by an "all weekend-long" marathon of the show. The special opens on the morning of Christmas Eve in Danville, and while Phineas and Ferb are off driving their "dual toboggan" beds, their sister Candace is trying to figure out what she should get her boyfriend Jeremy for Christmas. She calls up their mom, Linda (who is at the airport with Lawrence, to pick up Ferb's grandparents, whose flight from England has been delayed) for help, but has no success. Candace then dashes to her brothers' room, attempting to catch them in the act again, but is surprised to find they've already returned. She then takes a look at their to-do list and notices they have "writing a letter to Santa Claus" on there as well, which she scornfully laughs at. But she then realizes this could be the way to figure out what to get Jeremy - she'll have him write a letter to Santa, telling "in great detail" what he wants most, and then get a look at it so she can buy the right gift. (Phineas points out that she could also just ask Jeremy what he wanted "to avoid any unnecessary complications", but she laughs him off again.) Phineas admits that he and Ferb consider Santa one of their greatest heroes, for giving everything to everyone else, and never asking for anything in return, so he decides to turn Danville into a giant thank-you card. (more)
---
Vote
HERE
for the next Featured Article.
News
Upcoming Premieres
November 3rd

November 10th

November 22nd

Unknown dates

Unknown dates (continued)
Upcoming Video Releases
DVD
August 15th

September 5th

September 12th

September 26th

October 3rd

October 10th

Frasier: Christmas Episodes (includes "Miracle on Third or Fourth Street", "Frasier Grinch", "Perspectives on Christmas", "Merry Christmas, Mrs. Moskowitz", "The Fight Before Christmas", "Mary Christmas", "We Two Kings", and "High Holidays")
The Honeymooners: Christmas Laughter (includes "'Twas the Night Before Christmas")
Murdoch Mysteries: Once Upon a Murdoch Christmas
Sabrina the Teenage Witch: The Christmas Episodes (includes "A Girl and Her Cat", "Sabrina Claus", "Christmas Amnesia", "Sabrina, Nipping at Your Nose", "Sabrina's Perfect Christmas", and "It's a Hot, Hot, Hot, Hot Christmas")

October 17th

20-Movie Christmas Pack Volume 2
Thomas & Friends: Christmas on Sodor

October 24th

November 7th

November 14th

December 5th

January 2nd

Blu-ray
October 3rd

October 10th

October 24th

November 7th

4K Ultra HD Blu-ray
October 10th

October 17th

October 24th
Popular Christmas Specials
Popular Christmas Movies
Common Adaptations
Polls
Should the schedule pages start covering Christmas in July broadcasts?
Ad blocker interference detected!
Wikia is a free-to-use site that makes money from advertising. We have a modified experience for viewers using ad blockers

Wikia is not accessible if you've made further modifications. Remove the custom ad blocker rule(s) and the page will load as expected.