The Christmas Specials Wiki is a website that anyone can edit about our favorite Christmas Specials, movies, TV episodes, characters from within these media and music from them. The wiki format allows anyone to create or edit any article, so we can all work together -- and isn't that the true Christmas spirit? Check out the Help pages to get started! Have any questions? Then just leave a message on JeremyCreek's, Mouseinphilly's, or Jack5555's talk pages.
Christmas Day!
For information on other holiday specials and movies, visit our sister wiki, the Other Holiday Specials Wiki.
Featured Article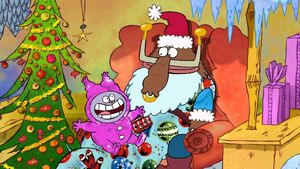 "Hey, Hey It's Knishmas!" is a special half-hour Christmas-themed episode of the Cartoon Network original series Chowder, produced as part of the show's second season. It premiered on said network on December 4, 2008. Marzipan City is in the midst of the Knishmas season, and as Mung Daal and Schnitzel are picking up their Knishmas tree, Chowder is looking in a store window at the object he desires for Knishmas - an Electric Broccoli Trimmer with Detachable Non-Electric Cauliflower Trimmer. He tells Mung that he's going to go ask Knish Kringle (the Knishmas equivalent of Santa Claus) for it. As they get in line to see "Knish Kringle" (actually a costumed Gazpacho), Endive suddenly shows up behind them, pointing out to Chowder that Knish Kringle never delivers gifts to Mung's house, which Chowder believes is because Bigfoot always wrecks Mung's shmingerbread houses. Endive, however, says it's actually because Mung's just not any good at making shmingerbread houses. Mung, offended at his rival's remarks, insists this will be Chowder's best Knishmas ever. (more)
---
Vote
HERE
for the next Featured Article.
News
Upcoming Premieres
December 17th
December 18th
December 23rd
December 25th
Unknown dates
Upcoming Video Releases
DVD
January 2nd
January 16th
Be Cool, Scooby-Doo!: Season 1, Part 2 - Teamwork Screamwork (includes "Scary Christmas")
Trivia
Popular Christmas Specials
Popular Christmas Movies
Common Adaptations
Polls
What do you think about Freeform's 25 Days of Christmas expanding to Disney's other networks?
Ad blocker interference detected!
Wikia is a free-to-use site that makes money from advertising. We have a modified experience for viewers using ad blockers

Wikia is not accessible if you've made further modifications. Remove the custom ad blocker rule(s) and the page will load as expected.