The Christmas Specials Wiki is a website that anyone can edit about our favorite Christmas Specials, movies, TV episodes, characters from within these media and music from them. The wiki format allows anyone to create or edit any article, so we can all work together -- and isn't that the true Christmas spirit? Check out the Help pages to get started! Have any questions? Then just leave a message on JeremyCreek's, Mouseinphilly's, or Jack5555's talk pages.
For information on other holiday specials and movies, visit our sister wiki, the Other Holiday Specials Wiki.
Featured Article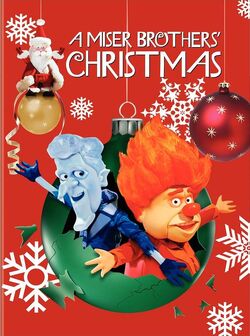 A Miser Brothers' Christmas is a sequel to the classic 1974 television special The Year Without a Santa Claus. This stop-motion animated special was produced by Warner Brothers Television Animation (owners of the post-1973 Rankin/Bass animated special library) and Toronto-based Cuppa Coffee Studios. It premiered as part of ABC Family's 25 Days of Christmas on December 13, 2008, making it the network's first original animated special, and was aired annually on the network through 2015. Mickey Rooney reprised his role of Santa Claus, which originally debuted in the 1970 special Santa Claus is Comin' to Town, while George S. Irving reprised his role as the Heat Miser. Original music was written by William K. Anderson, with the exception of "Snow Miser/Heat Miser", which was written by Maury Laws and Jules Bass for the 1974 special. The story begins when Santa's chief mechanic, Tinsel, makes a new Super-Sleigh, which Santa decides to test the next day. Meanwhile, the feuding Miser Brothers, Heat Miser and Snow Miser, attend their family reunion, where their brother, North Wind, passively asks Mother Nature what might happen if Santa would be unable to complete his duties on Christmas. She responds that North Wind would take control instead. Self-absorbed and vain, North Wind becomes fixated with the idea of replacing Santa Claus as a way to achieve personal glory. (more)
---
Vote
HERE
for the next Featured Article.
News
Upcoming Video Releases
DVD
January 24th
February 7th
Quantum Leap: The Complete Series (re-release by Mill Creek; includes "A Little Miracle")
April 11th
Diff'rent Strokes: The Complete Fifth Season (includes "Santa's Helper")
Father Knows Best: Season Five ("wide" re-release; includes "Christmas Story")
Blu-ray
February 7th
March 7th
Popular Christmas Specials
Popular Christmas Movies
Common Adaptations
Polls
What do you think of the schedule page being split into two subpages?
Ad blocker interference detected!
Wikia is a free-to-use site that makes money from advertising. We have a modified experience for viewers using ad blockers

Wikia is not accessible if you've made further modifications. Remove the custom ad blocker rule(s) and the page will load as expected.