The Christmas Specials Wiki is a website that anyone can edit about our favorite Christmas Specials, movies, TV episodes, characters from within these media and music from them. The wiki format allows anyone to create or edit any article, so we can all work together -- and isn't that the true Christmas spirit? Check out the Help pages to get started! Have any questions? Then just leave a message on JeremyCreek's, Mouseinphilly's, or Jack5555's talk pages.
For information on other holiday specials and movies, visit our sister wiki, the Other Holiday Specials Wiki.
Featured Article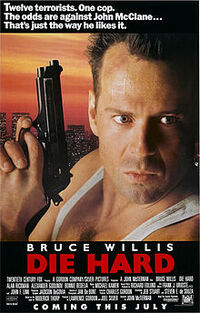 Die Hard is a 1988 American action film directed by John McTiernan and written by Steve de Souza and Jeb Stuart, based on the 1979 novel Nothing Lasts Forever by Roderick Thorp, the sequel to Thorp's 1966 novel The Detective, which itself had been adapted into a 1968 film of the same name starring Frank Sinatra. Fox was contractually obligated to offer Sinatra the lead role in Die Hard, but he turned it down and the film was instead pitched as a sequel to the 1985 action film Commando starring Arnold Schwarzenegger. When Schwarzenegger also turned it down, the film was pitched to, and rejected by, a host of the era's action stars before Willis was chosen. The studio did not have faith in Willis' action star appeal, as at the time he was known for his comedic role on television. Made on a $28 million budget, Die Hard went on to gross over $140 million theatrically worldwide, and was praised by critics. The film turned Willis into an action star, and became a frequent comparison for other action films featuring a lone hero fighting overwhelming odds. The film's success spawned the Die Hard franchise, which includes four sequels, video games, and a comic book. (more)
---
Vote
HERE
for the next Featured Article.
News
On June 14th, AT&T officially acquired Time Warner (the parent company of Warner Bros., DC Comics, Hanna-Barbera, Cartoon Network, Adult Swim, and HBO), which has now changed its name to WarnerMedia.
The Countdown to the 25 Days of Christmas, Freeform's annual programming event for late November, is being retitled as Kick-Off to Christmas this year.
R. Lee Ermey, actor and former United States Marine Corps staff sergeant, died from pneumonia at the age of 74 on April 15th. Best known for his role as Gunnery Sergeant Hartman in Full Metal Jacket, he was frequently cast as numerous authority figures, such as Sarge from Toy Story, and Lt. "Tice" Ryan on Rocket Power (including its Christmas episode).
Upcoming Premieres
November 9
Unknown dates
Upcoming Video Releases
Popular Christmas Specials
Popular Christmas Movies
Common Adaptations
Polls
What do you think about Freeform's 25 Days of Christmas expanding to Disney's other networks?