The Christmas Specials Wiki is a website that anyone can edit about our favorite Christmas Specials, movies, TV episodes, characters from within these media and music from them. The wiki format allows anyone to create or edit any article, so we can all work together -- and isn't that the true Christmas spirit? Check out the Help pages to get started! Have any questions? Then just leave a message on JeremyCreek's, Mouseinphilly's, or Jack5555's talk pages.
For information on other holiday specials and movies, visit our sister wiki, the Other Holiday Specials Wiki.
Featured Article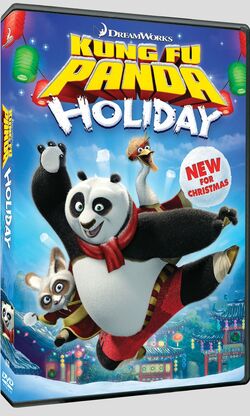 Kung Fu Panda Holiday is a winter holiday-themed television special spun off from DreamWorks Animation's Kung Fu Panda movies and TV series. It premiered on NBC on Wednesday, November 24, 2010, at 8:30 PM ET/PT. While not necessarily a Christmas special, it does contain some holiday-themed elements, such as decorations and the occasional exchange of presents. Mr. Ping (James Hong) has his cherished "Noodle Dream" in which he and his son, Po (Jack Black), make an incredibly delicious noodle soup, only to be interrupted by Tai Lung. Po defeats the leopard, but leaves his father who wakes up crying out in anguish. That same morning, Master Shifu (Dustin Hoffman) comes into the restaurant to assign Po to host the annual Winter Feast at the Jade Palace, which is a highly ritualized formal occasion exclusively for the masters of Kung Fu. Although Po offers his father the opportunity to cater it, Mr. Ping is adamant that he must stay at his restaurant for the lonely people who have nowhere else to eat for the holiday (and pay extra for it). (more...)
---
Vote
HERE
for the next Featured Article.
News
Upcoming Video Releases
February 16th
March 22nd
The Maude episode "The Christmas Party" will be made available on Shout! Factory's Maude: The Complete 4th Season DVD set.
Popular Christmas Specials
Popular Christmas Movies
Common Adaptations
Polls
How many Christmas specials and movies do you have in your video collection?