Home
Talk

25
3,081pages on
this wiki
The Christmas Specials Wiki is a website that anyone can edit about our favorite Christmas Specials, movies, TV episodes, characters from within these media and music from them. The wiki format allows anyone to create or edit any article, so we can all work together -- and isn't that the true Christmas spirit? Check out the Help pages to get started! Have any questions? Then just leave a message on JeremyCreek's, Mouseinphilly's, or Jack5555's talk pages.
For information on other holiday specials and movies, visit our sister wiki, the Other Holiday Specials Wiki.
Featured Article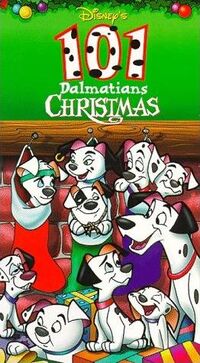 "A Christmas Cruella" is the Christmas episode of 101 Dalmatians: The Series, and The Walt Disney Company's fourth adaptation of A Christmas Carol. It was originally broadcast on Disney's One Saturday Morning programming block on ABC on December 20, 1997. The episode opens at the Dearly Farm on Christmas Eve, where Nanny is busy wrapping presents. But meanwhile, at the House of De Vil, Cruella is making all of her employees work late. Anita tries to tell her that everyone has already finished their Christmas shopping, but Cruella insists there's a few last-minute shoppers left. Roger then arrives to pick up Anita, and he has brought along Lucky, whom he had to take to the vet because he got a pine needle stuck in his paw. Cruella orders Anita to get back to work, despite it being 6:00 PM. Anita says she'd really like to take Christmas off and spend it with her family, and Roger agrees with her, so Cruella fires her. Later that night, as Cruella is getting ready to go home, she passes by the giant mechanical Christmas tree that Jasper and Horace have been trying to set up in the lobby. She knocks away the ladder they're using, causing the tree to come toppling down and knock her unconscious. When she comes to, she finds that Jasper and Horace have disappeared and assumes they also left early. When she arrives at her mansion and has to go through its security scan, the security camera suddenly takes the shape of Horace and Jasper's heads, and she knocks it out with her purse, assuming she must be hallucinating from being hit on the head. When she gets ready for bed, Horace and Jasper suddenly appear in front of her as a two-headed ghost, singing to her that unless she changes her ways, she will suffer a cruel and horrible fate due to her greed. The Baduns tell her that she will be visited by three more ghosts and then leave. (more)
---
Vote
HERE
for the next Featured Article.
News
Upcoming Video Releases
March 10th
The Pee-Wee's Playhouse: Seasons 3, 4 & 5 DVD set (which contains Pee-wee's Playhouse Christmas Special) will be made available for those who didn't buy the Complete Series DVD or Blu-ray set.
March 17th
March 24th
"Merry Christmas, Mr. Bean" will be featured on Shout! Factory's Mr. Bean - The Whole Bean: Remastered 25th Anniversary Collection DVD set.
April 7th
April 21st
April 28th
May 26th
Shout! Factory will release an individual DVD set of Welcome Back, Kotter: The Complete Third Season (including "A Sweathog Christmas Special").
Unknown dates
The Michael J. Fox Show: The Complete 1st Season, which will include the show's "Christmas" episode, is planned for release on an unspecified date.
Amazon.com is taking preorders for The Big Bang Theory: The Complete 8th Season (which includes "The Clean Room Infiltration").
Popular Christmas Specials
Popular Christmas Movies
Common Adaptations
Polls
How many Christmas specials and movies do you have in your video collection?