The Christmas Specials Wiki is a website that anyone can edit about our favorite Christmas Specials, movies, TV episodes, characters from within these media and music from them. The wiki format allows anyone to create or edit any article, so we can all work together -- and isn't that the true Christmas spirit? Check out the Help pages to get started! Have any questions? Then just leave a message on JeremyCreek's, Mouseinphilly's, or Jack5555's talk pages.
For information on other holiday specials and movies, visit our sister wiki, the Other Holiday Specials Wiki.
Featured Article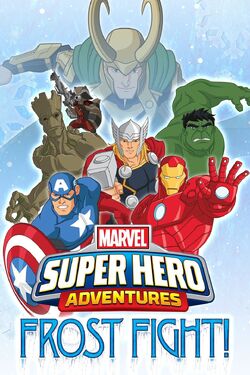 Marvel Super Hero Adventures: Frost Fight! is an animated Christmas-themed movie based on Marvel Comics that was released on Netflix on December 11, 2015. It is in the same continuity as the Marvel animated TV series that were running at the time, including Avengers Assemble and Guardians of the Galaxy. The movie opens on the Avengers battling Ymir, the King of the Ice Giants, on the now-frozen Monuriki Island, trying to stop him from opening the Casket of Ancient Winters. During the scuffle, Reptil spots Loki and tries to take on Loki by himself. However, he is too late to stop Loki from opening a giant hole in the sky. The vortex sucks up Ymir just as the Casket of Ancient Winters has been knocked out of his grasp. Later, at Ymir's ice palace, Loki fumes at the Ice Giant for the fact that he failed to get the Casket of Ancient Winters open before the Avengers could stop him. Ymir says that he has a new plan they could try, involving a half-frost giant, part-elf man known to them as Jolnir, who lives in Alfheim. He explains that Jolnir is the most powerful being in the Nine Relams, but he uses his power to spread happiness to all the children in the Nine Realms, under the alias Santa Claus. Ymir figures that, using the Casket of Ancient Powers, he and Loki could harness Santa's powers to dominate the very people who look up to him. (more)
---
Vote
HERE
for the next Featured Article.
News
Upcoming Premieres
November 9
Unknown dates
Upcoming Video Releases
DVD
June 12th
June 26th
Unknown date
Blu-ray
June 12th
Popular Christmas Specials
Popular Christmas Movies
Common Adaptations
Polls
What do you think about Freeform's 25 Days of Christmas expanding to Disney's other networks?