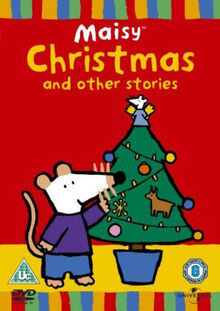 The Maisy Christmas Special is the Christmas episode of the Universal Television series Maisy, originally aired on Nick Jr..
Segments
Snow
It's snowing! Maisy makes a snowmouse and runs off to play in the snow with her friends Tallulah, Charley and Cyril. When Maisy gets covered in snow her friends don't know which is the real Maisy!
Cards
Maisy decides to make some cards, and Cyril joins in too - but who are they all for?
Christmas Tree
Maisy and Tallulah set off to choose a Christmas tree, but they find that decorating it is not as easy as they think!
Christmas
It's Christmas Eve and all round Maisy's house, nothing is stirring, except a very excited little mouse!
This page about a Christmas special or an episode from a television series with a Christmas theme is a stub. Please help the Christmas Special Wiki by expanding this article.
Ad blocker interference detected!
Wikia is a free-to-use site that makes money from advertising. We have a modified experience for viewers using ad blockers

Wikia is not accessible if you've made further modifications. Remove the custom ad blocker rule(s) and the page will load as expected.