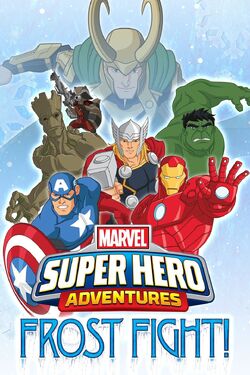 Marvel Super Hero Adventures: Frost Fight! is an animated Christmas-themed movie based on Marvel Comics that was released on Netflix on December 11, 2015. It is in the same continuity as the Marvel animated TV series that were running at the time, including Avengers Assemble and Guardians of the Galaxy.
Synopsis
This page about a Christmas special or an episode from a television series with a Christmas theme is in need of a longer synopsis. You can help the Christmas Special Wiki by expanding this synopsis.
A team of heroes must stop Loki and Ymir from stealing Santa Claus' power and taking over the world! Rocket and Groot are also after Santa for their own reasons. Heroes, villains, bounty hunters, and elves clash in an epic quest with the fate of the holiday at stake.
Cast
Voice actor
Character
Troy Baker
Loki
Steven Blum
Santa Claus/Jolnir
Nick
Grey DeLisle
Captain Marvel
Trevor Devall
Rocket Raccoon
JARVIS
Malitri
Matthew Mercer
Captain America
Gingerbread man
Kevin Michael Richardson
Groot
Antony Del Rio
Reptil
Jane Singer
Mrs. Claus
Fred Tatasciore
The Incredible Hulk
Ymir
Travis Willingham
Thor
Mick Wingert
Iron Man
Athidel
External links
This page about a Christmas movie is a stub. Please help The Christmas Special Wiki by expanding this article.