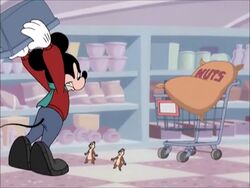 "Mickey's Mixed Nuts" is an animated short set at Christmastime. It was originally aired as part of an episode of Mickey Mouse Works, and was later included in the House of Mouse episode "House of Turkey".
Synopsis
After accidentally eating the last of Minnie's bag of nuts (which she had planned to use in her famous nut stuffing), Mickey has to race Chip 'n' Dale for the last bag at the supermarket.
Cast
External links
This page about a Christmas special or an episode from a television series with a Christmas theme is a stub. Please help the Christmas Special Wiki by expanding this article.
Ad blocker interference detected!
Wikia is a free-to-use site that makes money from advertising. We have a modified experience for viewers using ad blockers

Wikia is not accessible if you've made further modifications. Remove the custom ad blocker rule(s) and the page will load as expected.