Minerva "Minnie" Mouse is a character created by The Walt Disney Company for their cartoons and comic books. She is Mickey Mouse's sweet-natured girlfriend, and as such, she has appeared in many of the Christmas productions he has starred in, though more often than not, her role in the main plots of each are fairly minimal, with Mickey's Once Upon a Christmas and both adaptations of The Nutcracker being notable exceptions.
Appearances in Christmas specials
Theatrical shorts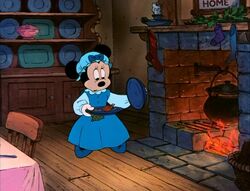 Mickey's Christmas Carol - Just like in An Adaptation of Dickens' Christmas Carol, Performed by The Walt Disney Players, the record album that inspired this special, Minnie portrays the role of Mrs. Cratchit to match Mickey as Bob Cratchit, in one of the few onscreen depictions of them as a married couple. Her niece Melody portrays their daughter. Unlike the original record album, though, Minnie notably does not speak here, as Disney had not yet found a new official voice actor for her at the time.
Television specials and episodes
Direct-to-video films
External links