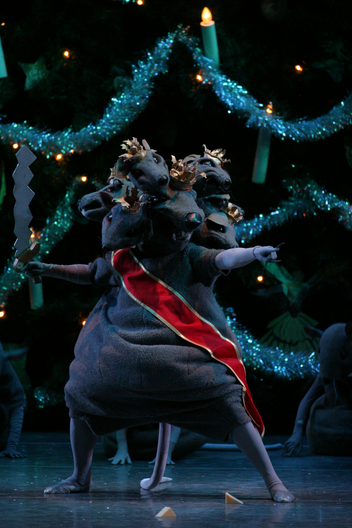 The Mouse King is the villain of The Nutcracker. Many incarnations of him were seen in almost all the adaptions, though there are some exceptions. Only rarely do the viewers see multiple heads on him in some animated adaptions.
Incarnations of the Mouse King
Tom and Jerry: A Nutcracker Tale - Jerry Mouse; however, he is not a villain in this version. Rather, the villainous role is given to the Cat King along with Tom Cat and the other cats.
"The Nutcracker" - This Mickey Mouseworks short features Donald Duck in the role, which he initially refuses to portray. The narrator convinces him to stay by claiming that he is supposed to win in the end. When he loses, he calls out the narrator on this.
The Nutcracker Prince - Voiced by Mike MacDonald. This incarnation, however, despised his mother and only wants vengeance against the Nutcracker because of his tail being squished, despite not knowing it was an accident. He is more somewhat unlucky and sometimes misunderstood than evil, though, especially when a sign of some (somewhat grudging apparently) kindness was shown when he returned Clara's slipper to her.
Gallery
Ad blocker interference detected!
Wikia is a free-to-use site that makes money from advertising. We have a modified experience for viewers using ad blockers

Wikia is not accessible if you've made further modifications. Remove the custom ad blocker rule(s) and the page will load as expected.