Directed by:
Michael Scott
Written by:
David Golden
Debbie Macomber
Release date:
December 5, 2009
Running time:
1 hour, 33 minutes
Rating:
TV-G
Available on:
DVD
Debbie Macomber's Mrs. Miracle is a 2009 made-for-TV movie. It was directed by Michael Scott and written by David Golden, based on the book Mrs. Miracle by Debbie Macomber.
Availability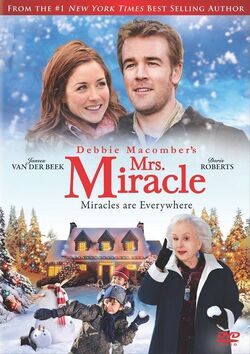 The movie was released on DVD by Sony Pictures Home Entertainment on November 16, 2010.
Cast
| Actor | Character |
| --- | --- |
| Doris Roberts | Mrs. Merkle/Mrs. Miracle |
| James Van Der Beek | Seth Webster |
| Erin Karpluk | Reba Maxwell |
| Valin Shinyei | Jason Webster |
| Michael Strusievici | Judd Webster |
See also
External links
This page about a Christmas special or an episode from a television series with a Christmas theme is a stub. Please help The Christmas Special Wiki by expanding this article.