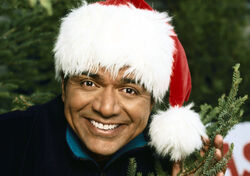 Naughty or Nice is a made-for-TV movie starring George Lopez and James Kirk. It premiered on ABC on Christmas Day of 2004.
Synopsis
A Chicago sports radio shock jock (George Lopez) is changed by a Christmas season encounter with a 15-year-old fan (James Kirk) who is dying of a heart problem who forces him to be nice for a day.
Cast
External links
This page about a Christmas movie is a stub. Please help The Christmas Special Wiki by expanding this article.