"Not so Hasty Puddings" is a Christmas episode from the seventh season of Thomas the Tank Engine and Friends. Michael Angelis narrated it.
Synopsis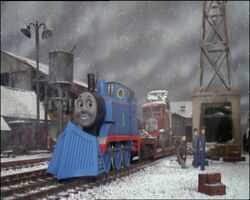 It's Christmas time, and Elizabeth gets sent to collect a shipment of Christmas puddings from Brendam Docks. But Thomas is jealous and feels sure he would be better than her at traveling through the snow. On her journey, the shipment is so heavy she gets stuck in the snow...
External links
This page about a Christmas special or an episode from a television series with a Christmas theme is a stub. Please help the Christmas Special Wiki by expanding this article.
Ad blocker interference detected!
Wikia is a free-to-use site that makes money from advertising. We have a modified experience for viewers using ad blockers

Wikia is not accessible if you've made further modifications. Remove the custom ad blocker rule(s) and the page will load as expected.